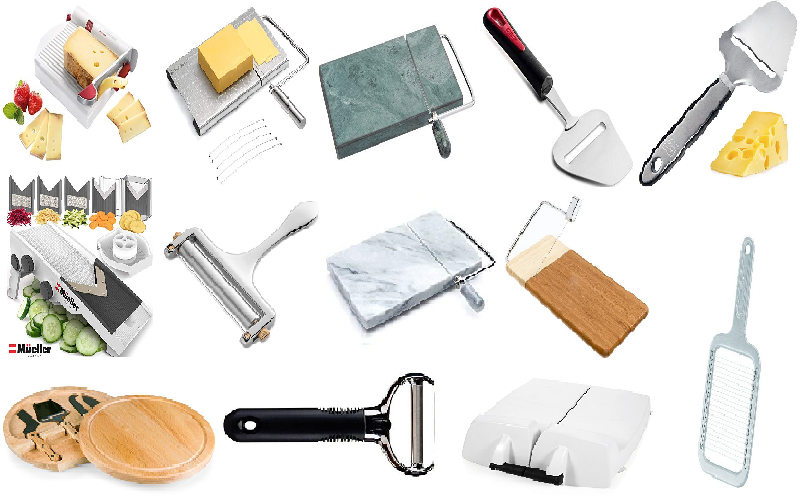 Let's face it, cheese really is one of life's true pleasures and if this delicious food has found its way into your heart it's about time you got yourself equipped with the tools to treat it properly. With a top quality cheese slicer in your life slicing cheese will be easy and will ensure that you get the perfect slither every time.
In this post, we will go through what you need to think about before buying a cheese slicer including describing what types of cheese slicers are out there. We will also review some of the best cheese slicers on the market so you can choose for yourself which is the perfect cheese slicer for you.
Why do I need a cheese slicer?
If cheese is a staple food in your household, whether it be in a cheese sandwich, in a pasta dish or served up on a stylish looking cheese board platter, then a cheese slicer is an essential tool for your kitchen repertoire. Here are some key benefits of having a cheese slicer in your life:
#1 Even slices:
It can be really tricky to get an even and consistent slice when chopping a block of cheese with a knife. A cheese slicer ensures that every slice is the same shape and size, providing consistency in your slicing.
#2 Time saving:
Making a packed lunch will be so much quicker when you have a cheese slicer. A cheese slicer speeds up the process of slicing cheese so that your sandwiches will be packed up and ready within minutes.
#3 Looks good:
If food aesthetics are important to you then uneven and crumbly slices of cheese will no doubt stress you out. Having a cheese slicer will make preparing a cheese board (either for guests or for yourself) a much smoother process and the end results will be a lot more attractive then if you were slicing cheese with a knife.
What to consider when buying a cheese knife
There are a few things to consider before purchasing a cheese knife in order to make sure you get the right product to suit your needs and requirements. Check out our guide below which covers everything you possibly need to think about before adding a cheese knife to your kitchen repertoire.
Best cheese slicer – buying guide
When it comes to cheese, almost everyone loves eating it but finding the best tools to cut it perfectly is not so easy. Here we take a look at how to pick the right cheese slicer for your needs.
What type of cheese do you like?
Have a think about what type of cheese you like to eat regularly and this will help determine what type of cheese slicer you need to buy. If you are partial to a hard cheese you will need to look out for a cheese slicer that has a sharp and heavy-duty cutter, or you might be best opting for a wire cheese cutter (more on this below).
For those of you that love a soft cheese your cheese cutter it is better to go for a simpler product that is more lightweight and allows a smooth and neat cut through your soft cheese of choice. It's highly likely that you like both soft and hard kinds of cheeses, but don't worry you can get a cheese slicer that can cater to both.
The different types of cheese slices
#1 Rolling Cheese Slicer
Rolling cheese slicers come in a T shape with a sturdy handle and a roller with a wire which slices the cheese. To use if place the cheese flat on the table and roll the slicer over the top of the cheese for an even and smooth slice. Rolling cheese slicers are a great choice if you like to eat soft and semi-hard cheeses as it will work with both. These types of cheese slicers also usually come with an adjustable setting so you can alter the mechanism for the type of cheese you are slicing.
#2 Wire Cheese Slicer
For those of you that love a hard cheese and are sick and tired of cutting frustratingly messy slices with your kitchen knife then a wire cheese slicer may be the cheese slicer of choice for you. These cheese slicers are a bit like the professional cheese slicers you see on the deli counter, however on a smaller scale. Wire cheese slicers come with a base of either wood, marble or stainless steel – this serves as the cutting board, there is also a wire and handle which is what slices through the cheese perfectly. These types of cheese slicers can also be used as serving boards so really are multipurpose! You can also use wire cheese slicers for soft and semi-hard cheeses.
#3 Cheese Plane
These are handheld slices which are some of the most commonly used types of cheese slicers. Simple to use and effective these are best used when cutting a larger block of hard cheese into slices to make sandwiches, for example. They are usually made of stainless steel and come with a hole above the blade so that the piece of cheese you slice slots nicely through as you slice. This type of cheese slicer is usually the cheapest variety and are a useful tool for the packed lunch run in the morning but perhaps not for creating the perfect cheese board for a dinner party.
#4 Mandolin Style Cheese Slicer
Another option to go for is the mandolin style cheese slicer. These work by guiding the mandolin slicer across the cheese – allowing for precision and a variety of thickness settings. What's great about opting for a mandolin style cheese slicer is that you can also use it for a variety of other uses, such as slicing fruit and vegetables to the perfect thickness. The mandolin style cheese slicer should sit securely on your work surface to ensure that using it is as safe as possible.
How to pick the best cheese slicer?
#1 Easy to clean
Make sure that you choose a cheese slicer that is easy to clean. This means that if there are any parts attached make sure that they are easy to remove so that they can be cleaned easily and effectively. You can also look out for cheese slicers that are dishwasher safe so that after using the cleaning is done for you. With an easy-clean cheese slicer, you can be confident that it will continue to be pleasant to use and also increase its durability.
#2 Easy to use
As well as being easy to clean you also want your cheese slicer to be easy to use. For hand-held cheese slicer check if they have a non-slip handle and are lightweight, this will make sure that you can slice your cheese easily. For wire cheese slicers and rolling cheese slicers make sure that they come with adequate instructions for use and that the blade is easy to maneuvre. Check out the reviews of the product you are thinking about purchasing to see how other users have found the usability of the cheese slicer to make sure that it will perform in the way you need it to.
#3 Adjustable
If you love all types of cheeses then it is a good idea to select a cheeses slicer that is adjustable. There are many such products out there that have an adjustable setting which ensures that you can cut the perfect slice no matter what cheese you are cutting up. An adjustable cheese slicer is a great option for a cheese connoisseur who wants to impress their friends with the ultimate cheese platter.
#4 Safety
Of course, one of the key considerations when considering purchasing a cheese slicer is the safety credentials of the product. The blades of cheese slicers can be very sharp so make sure you consider safety features. Handheld cheese slicers should have a non-slip handle to ensure that you have a safe a sturdy grip when you are slicing your cheese. For wire cheese slicers make sure that the cutting board has a rubber bottom so that it won't slip from the surface as you slice.
#5 Hard-wearing
A key consideration when buying a cheese slicer is ensuring that you are purchasing a hard-wearing and durable product. Make sure it is made out of hardy material such as stainless steel – this goes for handheld cheese slicers and the blade attached to wire cheese slicers. If you are purchasing a wire cheese slicer check if the product comes with replaceable wires so you are really getting your money's worth.
It is also a good idea to check out the warranty offered on the cheese slicer you are purchasing – most should offer at least a year. However, some will offer a lifetime warranty for those of you that want to make sure that your cheese slicer will last for good.
Best Cheese Slicers Reviews 2022
So now you know what to look out for in a cheese slicer and what type of cheese slicer is the best option for you why not check out our reviews of the Best Cheese Slicers of 2022. You're sure to find your perfect product.
#1 Editor's Choice: Westmark Germany Multipurpose Stainless Steel Cheese and Food Slicer with Board and Adjustable Thickness Dial (White)
We love this product because it not only slices cheese perfectly, it is also an incredibly handy item to have in your kitchen for all sorts of slicing. Whether it be meats, vegetables, fruits – this cheese slicer has got it covered and you will soon be wondering how you ever managed without this product in your kitchen.
Fitted with a super sharp stainless steel blade, it will glide seamlessly through both soft and hard cheeses. You can be completely in charge of the thickness thanks to the adjustable scale which is easy to follow and use. There are also rubber feet fitted underneath to prevent the cheese slicer from slipping as you slice. This top quality product also comes with a whopping 5-year warranty.
#Westmark #Germany #Slicer #Cheese #Quality #Kitchen #Non_slip
#2 Best Stainless Steel Cheese Slicer: MECKILY cheese slicer for hard cheese
Slicing cheese has never been easier than with this super-smooth cheese slicer from MECKILY. Made out of high quality 430 stainless steel this is a cheese slicer of superb quality and would make a perfect gift for a friend or relative. There are sturdy rubber grips on the bottom of the cheese slicer so you can be confident that there won't be any slippage as you make your cut.
Suitable for soft, semi-hard and soft cheese this cheese slicer is a good choice for those of you that love all food varieties. What's great about this cheese slicer is that it comes with a clear grid scale line so it's easy to cut your cheese to the perfect size you desire. You can also use this multipurpose cheese slicer for slicing fruit and vegetables. Included in the price are 4 replacement wires which are easy to install.
#Stainless_steel #Cheese_slicer #Hard_cheese #Soft_cheese #Perfect #Board
#3 Best stylish cheese slicer: Creative Home Genuine Marble Stone 5 x 8 inch Cheese Slicer Cutter+
This super stylish cheese slicer from Creative Home will take pride of place on any kitchen surface. Made out of beautiful marble each product has its own unique colors and shades from the natural marble cutting. The smooth lever is made out of stainless steel with a wire cutter, all you need to do is lift the lever and push the wire cutter through your cheese for the perfect slice.
Impress your friends by bringing out this beautiful cheese slicer out at the end of your dinner party with cheese pre-sliced ready to be enjoyed. Underneath the cheese slicer are non-slip rubber feet to ensure that it stays firmly in place as you slice and also won't scratch your work surface. Choose from either champagne marble, green marble, white marble or black marble for an excellent addition to your kitchen.
#Marble #Cheese_slicer #Wire #Hard_cheese #Dinner_party #Event
#4 Best Cheese Plainer: Westmark Germany Heavy Duty Stainless Steel Cheese Slicer (Red/Black)
Westmark are a well-known German kitchenware brand that make top-rated and high-quality kitchen items. This cheese plainer is no exception, costing under $10 it offers exceptional value and effectiveness. Made out of stainless steel with a thermoplastic handle it is built with materials that are highly durable.
This handheld cheese slicer is also incredibly easy to use and can be used for all types of cheeses. All you need to do is adjust the angle at which the point of the plainer sits as you slice the cheese – this will help you to adjust the thickness of the slices you cut. The handle is designed to ensure your grip is secure so that you can cut confidently. Other benefits of this product are that it is dishwasher safe and comes with a 5-year warranty and, if you're not happy with the product, you can even get your money back!
#Cheese_plainer #Westmark #German #Quality #Warranty #Slice #Thickness
#5 Best Value Cheese Slicer: Attican Cheese Plane Cutter for Hard Cheese
For all you cheese lovers out there who are looking for a cheese slicer but don't want to break the bank, check out this top quality cheese slicer from Attican. This cheese slicer is perfectly designed to ensure both your comfort whilst slicing and also to ensure that every slice reaches perfection. The ergonomic rubber handle will sit comfortably in your hand whilst the sharp stainless steel blade glides smoothly through either soft or hard cheese.
Adding this cheese slicer to your kitchen repertoire will serve to get rid of all of your cheese slicing woes and mean that when you come home after a hard day at work achieving your cheese and wine combo has never been easier. Attican are so confident that you will love their product that they offer a money back satisfaction guarantee. You've got nothing to lose, get your hands on one of these cheese slicers before there are none left!
#Cheese #Slicer #Attican #Value #Low_price #Wine #Thick #Hard_cheese #Soft_cheese
#6 Best Mandoline style Cheese Slicer: Mueller Austria V-Pro Multi Blade Adjustable Mandoline Cheese Slicer with Precision Maximum Adjustability
Every kitchen needs a mandoline and this is even more so if you love to eat cheese! This mandolin from Mueller Austria comes with 5 different blades so that you can cut in 5 different styles. Best for sliced cheese is the slicer blade, this stainless steel blade will effortlessly slice through your cheese of choice. It is also super easy to adjust the thickness so that you can choose exactly how thick you want your cheese.
Mueller Austria offer a lifetime no-hassle replacement policy so if any part of your product is faulty or wears out they will replace it – now that's what we call customer service! What's more, you can use this mandolin to slice your favorite vegetables to make beautiful salads that will impress all of your friends. With this mandolin in your life dinner parties will be a breeze and you can let your creative juices flow.
#mandolin #cheese_slicer #efficient #durable #adjustable #Slicer_blade
#7 Best rolling cheese slicer: Bellemain's Adjustable Thickness Cheese Slicer
If you are after a cheese slicer designed with simplicity in mind, then you'll love this rolling cheese slicer. This cheese slicer comes replete with an adjustable stainless steel cutting wire that is also easy to replace if you are finding it harder to slice through your delicious cheeses! With an impressive 1-year warranty despite its low price this cheese slicer is suitable for those with a small budget but who want their purchase to last and work well.
Other good things about this cheese slicer are that: it makes cutting evenly sliced cheese easy; it can be adjusted for the chunky cheese lover or the delicate slice lover; it will save you money as buying pre-sliced cheese is much more costly; it is suitable on cheese blocks up to 3.5" wide, and; it is super sturdy thanks to being made from single piece cast zinc. The downside of this cheese slicer is that you have to use company-specific wire for replacements.
#Cheese_Slicer #Rolling_Cheese_Slicer #Cheese_Wire #Cheese #Even_Slices
#8 Best marble cheese slicer: Fox Run's white marble cheese slicer
If you find a hands-free cheese slicer a bit hard to handle, then you should check out this sturdy tabletop marble cheese slicer that comes complete with a couple of replacement wires. Measuring about the same size as big hardback book this slicer won't dominate a surface top but has enough leeway to get through some pretty hefty chunks of cheese. The 100% marble base also means it is pretty heavy and will stay secure on your surface top thanks to its non-slip rubber feet.
Other pros about this cheese slicer are that: it is also great for people who love to make their own pastry; it is super easy to clean; it looks stylish when used as a serving board once you have sliced up your cheese to perfection; it cuts nice even slices and can be adjusted to any width, and; it is great value considering it is marble. The downside of this cheese slicer is that the cutting wire is a little bit tricky to replace.
#Marble #Marble_Cheese_Slicer #Pastry_Board #Cheese_Board #Cheese_Slicers
#9 Best 12-inch cheese slicer: Prodyne's 12X6 bamboo cheese slicer and wirecutter
If you're after a tabletop cheese slicer that is a bit bigger and so offers more leeway for bigger hunks of cheese, then you'll like this bamboo piece. Its two-tone design is super stylish if you do want to just leave it on your worktop, but it is also easy to relocate thanks to being made from lightweight but sturdy bamboo. The non-slip feet also help to ensure you don't have any nasty accidents when tackling a tough bit of cheese!
Other positives about this cheese slicer wire cutter are that: it comes with an incredible lifetime wire breakage warranty; it is strong enough to tackle harder cheeses with the minimum of fuss whilst still ending up with a nice even slice, and; it has impressive adjustability for all types of cheese lovers from super thin to super chunky. The downside of this cheese slicer is that it is not that easy to adjust the wire tension once it gets loose.
#Cheese_Slice #Bamboo #Bamboo_Cheese_Slicer #Cheese #Wirecutter
#10 Best cheese plane set: Toscana – a Picnic Time's cheese board and tools
If you have got a big cheese and wine night planned but not any of the necessary equipment, then you should definitely think about investing in this cheese board set. This set comes complete with everything you need to get the most from your cheese, with a cheese planer, a pronged knife with a curve, a butter and pickle knife, and a small but sharp and rigid knife for harder cheeses. This all comes encased in a wooden chopping board that doubles up as a stylish serving tray.
Other things that make this set stand out from the crowd: all the tools are made from stainless steel which means they will last you for years; it comes with a variety of tools suitable for every cheese type (and the all-important pickle application stage); the serving tray is a full 10.2-inches which is ideal for serving up a wide variety of cheeses to wow all your guests, and; it comes with a lifetime guarantee. The downside of this product is the chopping board is not as uniformly flat as some other materials like marble.
#Cheese_Planer_Set #Hard_Cheese_Knife #Cheese #Soft_Cheese_Knife #Cheese_Set
#11 Best handheld cheese slicer: OXO's adjustable cheese slicer
If you've had trouble with cheese table top cheese slicers that loosen over time with no easy way to tighten the slicing wire, then you'll love this nifty handheld cheese slicer. All you need to do to adjust the thickness of your slices is modify the angle of your wrist in relation to the cheese and if the wire starts to loosen over time or after tackling a particularly tough hard cheese, then all you need to re-tighten the wire is twist the handy wheel in the centre of the slicer.
Other pluses about this handheld cheese slicer are that: it comes with two replacement steel wires that are particularly easy to replace; it is made from sturdy zinc that retains quality over time, so you won't have to buy a new one for a long time, and; it has a specially designed handle for comfort and control that makes it easy to adjust slice thickness. The downside of this slicer is that yu cannot adjust the width of the slice of cheese you are cutting (only the depth).
#Cheese_Slicing #Handheld_Cheese_Slicer #Hard_Cheese #Zinc #Stainless_Steel
#12 Best cheese slicer wirecutter: Boska Holland's cheese slicing platform
If you are after a professional grade cheese slicer of the kind you find in a high class restaurant or down at your local cheesemongers, then look no further than this exceptional piece of kit. Designed to tackle any cheese type and any cheese size, this cheese slicer wirecutter does require the acquisition of some skill to cut accurately, but it doesn't take long and you will be able to feel more proud of your handy work as a result!
Other big pluses about going down this route are that: it is flexible enough for all your cheese cutting needs; it fits securely to your surface and can be easily stored in the cupboard; it is up to professional standards; it can be cleaned in the dishwasher, and; it has a special design that makes the wire last longer and cut evenly more easily. The downsides of this wire cutter are that it is pricey, it does not have a dual purpose, and it is quite bulky.
#Professional_Slicer #Professional_Wirecutter #Cheese_Wirecutter #Wire_Cutter #Cheese
#13 Best Mozzarella Cheese Slicer: Westmark's cheese and potato slicer
If you love mozzarella, feta, or halloumi salads but hate the faff of cutting up each slice into small pieces, then you might be interested in this all in one go slicer. Designed to cut through a rectangular cheese block in one fell swoop this clever device can also slice a potato in one go too if you fancy serving up a potato dauphinoise alongside your tasty salad. For the lazy cheese cutters, this one is definitely a winner!
Other good things about this cheese slicer are that: it is great for a block of cheddar if you need to make a stack of sandwiches (you might need to trim your block to size first though); it is made in Germany so you can be sure of its precision, durability, and quality; it is super easy to clean, and; all the blades are made with aluminum and coated with stainless steel. The downside of this slicer is that it is not the most versatile and it is quite pricey.
#Cheese_Slicer #Potato_Slicer #One_Time_Slicer #Slicing_Cheese #Cheese_Cutter
Conclusion
Choosing the right cheese slicer can seem like a tricky task but if you follow our step-by-step guide you're sure to select the right product for you. Whether you love to munch on hard cheese or love the subtlety of soft cheese make sure you invest in a cheese slicer that can accommodate your favorite cheeses. Cheese slicers come in different shapes and sizes ranging from the handheld cheese planers and cheese rollers to the wire cheese slicers that sit on your work surface.
Make sure that whatever cheese slicer you choose that it comes with an adjustable setting so you can alter it for either the thickness you require or the type of cheese you are slicing. Check out the materials that the cheese slicer is made out of to make sure that it will be long-lasting and also have a look to see if the manufacturer offers a warranty. Now all you need to do is get that glass of red wine and sit back with your perfectly sliced cheese – enjoy!
See more maybe you are interested here.