When setting up a restaurant it can be good fun getting the commercial restaurant equipment sorted in the kitchen. However, where do you start when it comes to other essential considerations, such as the key bathroom fittings every restaurant should have? Well, in this post we will give you the low down on getting the restroom right, the key restroom fitting requirements for your restaurant, and a few of our favorite products that are easy to overlook but vital for customer satisfaction.
How can I make the restroom suitable for disabled access?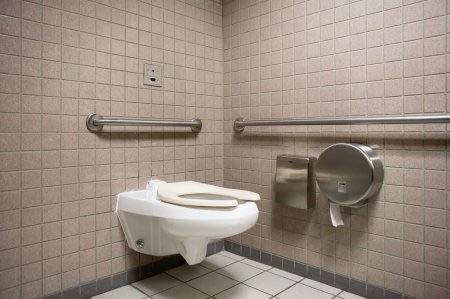 Commercial restrooms should always be located somewhere accessible and have disabled access. The Federal American Disabilities Act (ADA) requires this access must also include the necessary equipment to make the bathroom accessible. To make your bathroom ADA compliant you will need ramp access, widened doorways, appropriate handrails, sinks, and taps, things being installed at an appropriate height for wheelchair users, and appropriate dimensions (eg. stalls must be at least 30 inches by 48 inches.
You should also install a disabled toilet alarm installed within reach of the toilet and the floor in case the need arises for emergency assistance. Disabled access toilets can be separate or combined but must be clearly labeled to indicate that they are properly equipped and accessible. Making toilets accessible for people with disabilities also makes them more user-friendly for everybody.
Where should the restroom be located?
Ideally, access should be easy from the dining area and, preferably there should be two doors in between the restroom and the dining area or some covering outside the door if only one door is possible. By law, you cannot have a toilet that requires customers to pass through the kitchen directly. If you have a small restaurant that is under 1,200 square feet, then it is acceptable to have a single unisex toilet as long as it has disabled access.
How many restrooms do I need in my restaurant?
Whilst all employers need to provide ample restrooms for their staff, restaurants also have to provide a sufficient number for customers as well. As a rule of thumb, employees should have their own toilets and not be expected to wait more than a couple of minutes to use the restroom. This is to comply with the Occupational Safety and Health Administration (OSHA) regulations.
Obviously, the total number of toilets required depending on staff and customer numbers. As a general rule of thumb, one water closet per 30 women is estimated to be sufficient and this would suffice for up to 60 men, especially if there is at least one urinal installed. In venues that serve under 20 customers and staff combined, a shared unisex toilet with disabled access for staff and customers is sufficient. However, if operating with the potential for above 20 customers and staff combined, separate toilets need to be provided for men and women as well as a separate toilet for staff use.
What sanitation equipment do I need in a commercial restroom?
Commercial restrooms need to be properly equipped with a range of items and sanitation goods. Here, we outline the must-haves for a restaurant restroom and some handy tips to help you choose the right equipment:
#1 Toilet paper holders
No toilet is complete without a toilet paper dispenser. This should be within close reach of the toilet and preferably be covered for the purposes of hygiene.
#2 Sinks
All restrooms require at least one sink meeting ADA requirements. It should be installed with the required clearance for a wheelchair to fit underneath and within reach of the faucets. Exposed plumbing must be padded to prevent injury.
#3 Faucets (taps)
Taps need to be easy to use (require less than 5lbs of force to turn on) and require only one hand to operate. Taps can be operated manually, electronically, lever-push, or by a sensor. However, if they are operated manually they should not require twisting, pinching or a tight grasp. The faucet should be no more than 11-inches reach from the sink edge.
#4 Soap dispensers
Soap dispensers, rather than bars of soap, are much more hygienic in commercial restrooms. They should be installed no higher than 44-inches to meet ADA requirements and reach depth to the soap-dispenser must also not exceed 11-inches in order to be compliant. It should also be conveniently placed for use with running water.
#5 Hand drying
Whilst shared cloth towels and paper towels are legal in some states, the most hygienic and more efficient option is by far the commercial hand dryer. They must not extend more than 4-inches from the wall and should be placed no between 40-48 inches from the floor. To comply with ADA regulations they must also have a clearing of at least 30 inches by 48-inches in front of them (this allows for left and right-handed approaches as well).
#6 Trash disposal
This is a vital element in both stalls and the main restroom. Female units should also have a sanitary disposal unit in every stall. They must not be placed anywhere where they will obstruct disabled access or become a trip hazard. They should also not be placed underneath a hand-dryer or in-front of the sink. To meet ADA approval they should not project from the wall by more than four-inches, should be mounted to the wall, and should contain an opening at the level of 27-inches from the ground.
#7 Mirrors
A restroom without a mirror will leave many a customer unhappy. On the other hand, a full-length mirror will be gratefully received by many punters. It's always handy to have a mirror over the sink, and this should be hung around 35-40-inches above the floor.
What you need for a Commercial Restroom 2022
So now you know the major fittings you need to sort out. Here we outline 5 of our favorite fittings that will help get you started when it comes to getting your restrooms ready for your first customers and ensuring they are ADA compliant.
#1 Best Commercial Toilet Paper Holder: Oasis Creations' Toilet Dispenser
If you're after a covered toilet roll dispenser that doesn't get jammed easily and is big enough so that you don't have to constantly spend time refilling it, then this option has everything you need. Designed to mount easily to restroom cubicles and with a slim-fit design to prevent taking over the space, this dispenser is great value for a hygienic toilet paper holder for commercial use in restaurant restrooms.
Other pros of this toilet roll holder are that: it helps to improve hyge3ine by keeping the toilet paper covered in a locked casing; it has a compact design; it holds 9-inch rolls that stop you having to refill the loo-roll regularly (although you'll want to keep on eye it so you know when you do need to change it over for a new one), it is built to last, and; it has a 30-day money-back guarantee. The downside of the unit is that it is made from plastic which doesn't suit all tastes.
#Toilets #Toilet_Roll #Restroom #Toilet_Roll_Dispenser #Restroom_Paper_Dispenser
#2 Best Commercial Hand Dryer: XLERATOR's Excel Dryer ECO
Hand dryers are far more hygienic than any other hand drying option but old-fashioned models can use a lot of energy. However, this exceptional design uses 80% less energy than conventional dryers saving you money on energy. You will also save on paper towels and always having to empty out the bins as there will be less waste generated with one of these installed. The initial outlay is more than a manual paper-towel dispenser, but you'll quickly cover the costs.
You'll also love this hand dryer because: it comes with an impressive 5 year limited warranty from the manufacturer; it will save you money on energy bills and replacement paper towels; you don't need to  waste time checking  on and re-filling your paper-towel dispenser or washing cloth variations, and; this dryer really dries fast with hands dried within 10  seconds. The downside of this hand dryer is the initial cost is high in comparison to alternative hand-drying tools, but in the longer-term, it will save you money.
#Hand_Dryers #Hand_Dryer #Eco_Hand_Dryer #Fast_Hand_Dryer #Commercial_Hand_Dryer
#3 Best Commercial Soap Dispenser: Bobrick's B-40 40-fl oz Capacity
Nobody likes going into a commercial restroom and finding a manky old bar of soap to clean their hands with. However, empty or clogged up soap dispensers are nobody's friend either. Fortunately, this reliable and durable dispenser is corrosion-resistant and will not clog up. With valve-operation requiring less than 5-lbs of force, it is also ADA compliant adding to its credentials as the ideal soap dispenser for commercial restrooms.
Other pluses of this soap dispenser are that: it doesn't require a key to access, making it easier to refill (however, it is also vandal-resistant); discounts are available on multiple purchases making this a good choice for larger restaurants required to offer multiple restrooms; it can be easily removed from the wall when required to give a deep clean, and; it is suitable for all major commercial hand soaps. The downside of this soap dispenser is that it does not have the most stylish of designs.
#4 Best Commercial Trash Cans: Simplehuman 25 Liter/6.6 Gallon
When providing a bathroom in a commercial setting, you'll need a commercial trash container. Getting the trash can right is an important criterion in ensuring the space meets the requirements of your customers and remains tidy. This slim open trash can from Simplehuman is a great choice in terms of delivering maximum usability in a compact space. It is made out of brushed stainless steel and can handle 25 liters of rubbish.
Thanks to the brushed stainless steel, finish this trash can is fingerprint-proof so, even with multiple-use, it will resist the smudges of the many fingers that will be using it. Simplehuman also provide a 5-year warranty so you can be confident in this purchase and know that you are making an investment that you can rely on for years to come. The downside of this trash can is that it is expensive and rather large so will not necessarily be suitable for smaller establishments.
#Commercial_Trash_Can #Bathroom_Essentials #Commercial_Bathroom #Stainless_Steel #Compact #Stylish
#5 Best Commercial Faucets for Restrooms: Charmingwater Automatic Sensor
Just as having an automatic hand-dryer is more hygienic and energy-efficient, an automatic faucet offers you the same benefits. This automatic faucet also ensures you are compliant with ADA regulations as there is no need for force or twisting when it comes to using these taps, making them a great choice for commercial restrooms. Making things accessible for people with disabilities makes things more accessible for everyone and these taps will please all your customers with their effective sensor.
Other pluses about these taps are that: they are easy to install and come with handy instructions; they save you money and protect the environment by reducing water wastage; it is a sleek design that looks stylish; they prevent the spread of germs by removing the need for anyone to touch a handle off and on, and; it is easy-to-use. The downside of these faucets is that they are quite expensive in the short term and the temperature needs to be centrally controlled.
#Taps #Faucets #Commercial_Taps #Commercial_Faucets #Automatic_Taps
Conclusion
Setting up a bathroom for commercial use requires some careful consideration to ensure you provide the fixtures and fittings needed by your customers and that meet ADA approval. A bathroom can go a long way in solidifying your customers' opinion of your establishment, so it is certainly worth getting it right. From toilet paper holders to sinks to faucets and trash cans there are multiple products that you will need to purchase. You can get some great advice on how to plan out your commercial bathroom in our buying guide.