Are you in the mood for some tasty, cold and flavorful smoothies? Well… I am!
When the weather's hot and we can't help but sweat all day, there is always the refreshing solution to fix things up. By drinking a tasty and cold beverage, we all know this helps us a lot in the hottest days. If you prefer fruit smoothie recipes without yogurt, then we just have the right kind for you! In this article, there are 5 recipes for you to try out! Let's check them out…
You may want to see: How to Make a Fruit Smoothie Without Yogurt?
Fruit Smoothie Recipes without Yogurt You Can Try Out!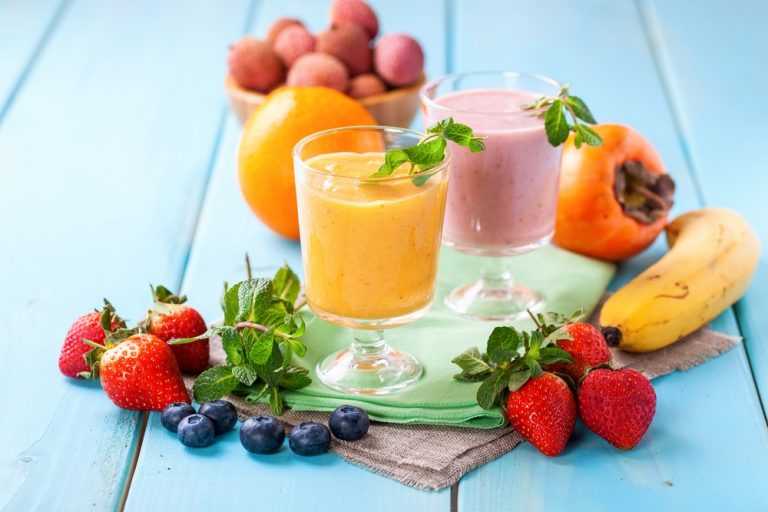 Fruit smoothies with different flavors
The basic ingredients for a tasty smoothie are:
Your favorite fruit or a combination.
Yogurt or low-fat milk, soy milk (for the creamy taste).
Sugar, or any natural sweetener you prefer like honey.
Ice cubes.
Since our nature is adventurous when it comes to our palates, we tend to experiment with recipes that we are familiar of. On top of the basic ingredients, let us add more to what we think will suit our taste.
You love to keep the natural flavors of the fruits intact? So prepare your blender for in these "yogurt-free" smoothies, let us try to play!
1. Smoothie Recipe with Tropical Mangoes, Yogurt-free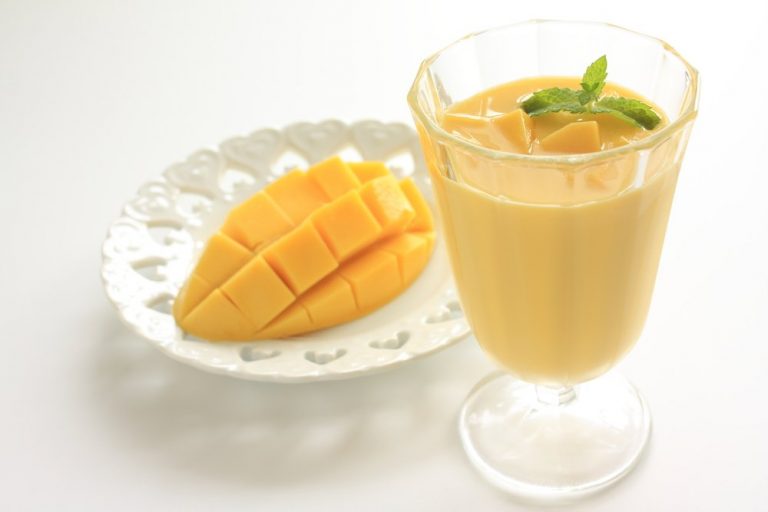 A mango flavored smoothie with mint
All that you need:
2 Cups of Frozen Mangoes.
1 Cup of Coconut Milk.
1 Tablespoon of Honey or Sugar.
1 Tablespoon of Ginger.
1 Cup of Crushed Ice.
4 to 5 Mint Leaves for Garnishing.
How do you make it?
Prepare each ingredient according to the tablespoon and cup measurement.
In a blender, you must drop in the ingredients you have such as your mangoes, sugar, ginger, crushed ice and coconut milk.
Set your blender to its highest speed to make sure your smoothie comes out smooth and fluffy.
After the blending of the ingredients, add water (if you wish) to make it to your desired consistency and then blend again.
Once it is all done, place it into your desired cup and place your garnished mints on top.
Tip: If ever you want to serve this as a dessert, you can. To make it so, you must skip the water and let it blend without it.
2. Smoothie Recipe with Grapes, Yogurt-free
A grape flavored smoothie with mint
All that you need:
2 Cups of Frozen Grapeso.
1 Cup of Fresh Almond Milk.
2 Sliced Frozen Bananas.
1 Cup of Blueberries.
How do you make it?
Prepare a blender with a high-speed setting.
Pour in your frozen grapes and blend them for 1 to 2 minutes.
After 2 minutes and that your grapes are half blended, add in your frozen banana slices next.
Blend all of these together for 30 seconds.
After 30 seconds, pour in your almond milk as well as your cup of blueberries together with it.
Set the blender setting to high speed and blend this until all is carefully and well mixed.
3. Smoothie Recipe for Tropical Watermelon, Yogurt-free
A watermelon flavored smoothie with mint and straw
All that you need:
¼ slice or ½ slice of a small size watermelon.
4 pcs of small lemons.
4 to 5 Mint Leaves.
Note: We require you to get this size of watermelon because in this recipe, we will not be using any water for the watermelon already contains a lot of it.
How do you make it?
The first thing you have to do is to cut your watermelon into small pieces or in big pieces depending on how much power your blender has.
After cutting it into pieces add them to your smoothie. Some would prefer to include the seeds in their smoothie, but I prefer mine to be seed-free. It's up to you.
Place your sliced watermelons into the blender and blend it for 10 to 15 seconds.
Get your freshly squeezed lemon you prepared, pour it in after 10 to 15 seconds and then blend this with your watermelon until it is smooth.
For your last step, you can mix our mint inside and blend it all together for a few seconds and then you are done!
Tip: This lime juice consists of vitamin c and gives a tangy punch to the recipe to make it taste even better and healthier. The lime juice helps make the drink mintier and works well for your digestion.
4. Smoothie Recipe with Peaches, Yogurt-free
Peach flavored smoothies with mint and straws
All that you need:
2 Peaches.
1 Banana.
6 Ice Cubes for every cup.
1 to 2 Cups of Peach Juice.
How do you make it?
Start by first peeling your peaches and bananas.
After peeling, you cut them into pieces of your desired size.
Place all these sliced pieces into your blender and blend it until it looks smooth enough.
After blending, add your cubes of ice to give it that cool temperature and then blend it in as well.
Pour in your cups of peach juice to dilute it and add more ice cubes.
Lastly, blend it all together and place it in cups for it to be ready for drinking.
5. Smoothie Recipe with Raspberries, Yogurt-free
A raspberry flavored smoothie with mint and straw
All that you need:
1 Cup of Raspberries.
1 Ripe Banana.
1 tbsp. of Honey or Sugar.
1 Cup of Orange Juice.
5 to 6 Ice Cubes.
How do you make it?
Clean your raspberries to get rid of unwanted germs or dirt.
Peel your banana and add it along with your raspberries, orange juice and sugar inside the blender.
Blend it well until it is smooth and fluffy.
Add in the ice cubes for a cool effect then you're done!
Aren't they all quite easy? You can make your own version as well! Enjoy your favorite fruit smoothie recipe without yogurt and be sure to give us a like and share for those who'd like to learn these recipes as well!
See more you may be interested click here