When there are not enough hours in the day to do everything you need to do having an instant pot in your life is a great way to ensure you and your family eat wholesome and healthy meals that are super quick to make. If you haven't heard of this amazing invention yet then it is about time that you do. In this article, we tell you what an instant pot exactly is, how it works and what delicious recipes you can look forward to making in it.
What is an Instant Pot?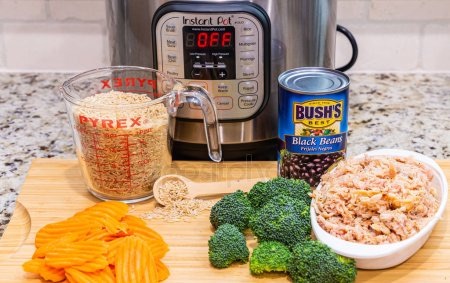 With numerous kitchen gadgets out there it can get a little confusing as to what does what and which appliance would suit you best. Well, the great thing about an instant pot is that this clever device is actually multiple appliances in one. The majority of instant pots have several different functions including being able to work as a slow cooker, steamer, pressure cooker, frying pan and can reheat food.
There are also some exciting additional functions that hi-tech instant pots have smart features such as WiFi which means that you can set your meal cooking remotely from your smartphone. You can also use this feature to check the status of your meal and even find out when it is ready!
What is the difference between an Instant Pot and a pressure cooker/slow cooker?
You may be wondering how an Instant Pot is different from a traditional pressure cooker or slow cooker. The fact of the matter is that an Instant Pot is both of these devices in one plus a whole lot more. A pressure cooker is a means of cooking a one-pot dish up to 70% quicker than cooking it in a traditional way. Whereas a slow cooker is a device in which you can chuck your ingredients in, set it to go, and it will cook your dinner slowly on a low heat so it is ready when you return home from work.
What's great about an Instant Pot is that you no longer need to decide whether a pressure cooker or a slow cooker is the best choice for you as it has the attributes of both of these appliances.
What can I cook in an Instant Pot?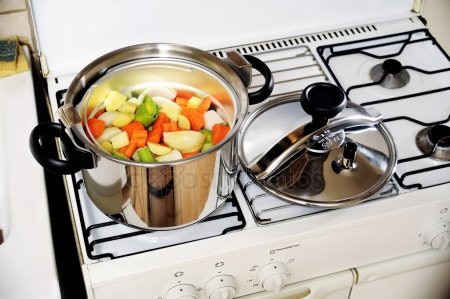 Thanks to the multiple features of an instant pot you can cook pretty much anything in it. In your instant pot, you can cook soup, risotto, roasted meats, mac and cheese, mashed potato, rice dishes, and even cakes and desserts. The opportunities are endless with an instant pot cooker and there are so many recipes that you can find online. You will be surprised by how much you can cook in an instant pot and you're sure to never be bored when it comes to mealtimes.
Is an Instant Pot safe?
Make sure that before you start using your instant pot that you read the manufacturers instructions so that you are clued up on how to use your instant pot cooker safely. There are important safety features inbuilt into an instant post cooker which makes it safe to use. These include a lock on the lid which means that you cannot open the cooker until the pressure has gone. Instant pot also comes with temperature control so that the appliance is kept safe whilst cooking.
Instant Pot: Buying Guide
In this next section, we take a look at the considerations you need to make before purchasing an Instant Pot.
Features
The first thing you need to think about is what you want your instant pot cooker to do. The majority of models will be able to do the same task as a pressure cooker and slow cooker, as well as being able to steam food and cook rice. However, if you want all the bells and whistles you can get instant pots that can make yogurt, sterilize baby bottles and even have a cake setting.
Also, consider whether or not you want your instant pot to have smart features which mean you can set your dinner cooking from the office via your smartphone. In this fast-paced and modern world, it can be incredibly handy to have Wi-Fi built into your instant pot.
Size
Once you've decided on the features you would like your instant pot to have it's time to think about the size of the cooker you are going to need. Size requirements are dependent on both the number of mouths you need to feed as well as the space you have on your worktop surface.
Fortunately, instant pots come in a variety of sizes to suit the needs of all families. A 3 quart instant pot would be suitable if you are a couple or a 3 person family. For families of 4-6, you will be looking at an instant pot that is around 5 or 6 quarts. The biggest instant pot available is the 8 qt instant pot which is suitable for a large family of around 6 or more.
Price range
Finally, have a think about what your budget is. The cost of an instant pot cooker ranges from around $60 to around $250. The price of the instant pot cooker will depend on the size you need as well as the additional features you require. The larger and more hi-tech the instant pot cooker is the more expensive it will be so bear this in mind when working out your budget.
Best Instant Pots Reviewed 2022
With so many different types of Instant Pots available it can be tricky to pin down which is the right pot for you. Thankfully, in this next section, we review a variety of Instant Pots and highlight their pros and cons so that the search for the perfect Instant Pot is a breeze.
#1 Best Instant Pot Mini: Instant Pot Duo Mini 3 Qt 7-in-1
If you live alone or in a couple then this mini Instant Pot could just be for you. Measuring 3 quarts in size this is a compact Instant Pot which will fit comfortably on your kitchen worktop without taking up too much space. Despite its small size, this Instant Pot has a whopping 7 different uses meaning that it can replace the majority of kitchen appliances. With this Instant Pot you can sauté, steam, cook rice, make yogurt, as well as use it as a pressure cooker, slow cooker and to re-heat food.
So, if you and your partner live a hectic lifestyle investing in this Instant Pot cooker could just be your sure-fire way of ensuring a healthy and wholesome meal gets on the table every day. With an inbuilt pressure and temperature monitor, you can be sure this Instant Pot is safe to use. Plus, the timer ensures your meal will be cooked to perfection. This Instant Pot Mini comes in 4 different colors: black, red, teal and white.
#Instant_Pot #Pressure_cooker #Slow_cooker #Fast_cooking #Speedy_meal #Tasty #Healthy
#2 Best 8 Quart Instant Pot: Instant Pot DUO80 8 Qt 7-in-1
If you're looking for the best 8-quart pressure cooker around you might want to consider this model from Instant Pot. As well as being a pressure cooker, it can also work as a slow cooker, rice cooker, yogurt maker, steamer and it can even be used to sauté. With so many useful functions it is well worth the investment and when you have a lot of mouths to feed this 8 quart model will soon become your best friend.
With this 8 quart Instant Pot you can speed up the cooking process, making it 2-6 times quicker than regular cooking. There is a microprocessor within the instant pot which ensures the temperature and the pressure inside is carefully monitored and adjusted if necessary. Whether you want to create a wholesome soup, a delicious chili, or even some slow-cooked meat you can do it all in this Instant Pot.
#Healthy_dinner #Quick #Easy #Slow_cooking #Quick_eats #Batch_cooking
#3 Best Smart WiFi Instant Pot: Instant Pot Smart WiFi 6 Quart
When it comes to Instant Pots they don't come much better than this. Fitted with smart technology this Instant Pot can be connected with an Alexa device or with the Instant Pot app via your smarphone. The Instant Pot app includes thousands of recipes for you to follow, as well as enabling you to check the progress of your dinner and receive alerts!
As well as being super tech-savvy this Instant Pot has some other great functions that will ensure you eat delicious and healthy food with minimal effort. This 8-in-1 Instant Pot works as a slow cooker, pressure cooker, yogurt maker, rice cooker, cake maker, steamer, as well as being able to sauté food and re-heat/defrost. With this Instant Pot in your life, you will begin to wonder how you ever lived without it!
#Smart_technology #WiFi #Instant_Pot #6_Quart #Multi-use #Pressure_cooker
#4 Best 6 Quart Instant Pot: Instant Pot Ultra 6 Qt 10-in-1
This is an ideal Instant Pot for families of up to 4 people, measuring at 6 quarts. This easy-to-use Instant Pot will not only revolutionize your cooking experience it will also allow you to experiment with cooking techniques without needing an extensive amount of kitchen equipment. This Instant Pot can undertake the role of a whopping 10 kitchen appliances including a slow cooker, pressure cooker, rice cooker, cake maker, yogurt maker, egg cooker, steamer, warmer, sterilizer and it can sauté.
Cooking is certainly made easy with this Instant Pot thanks to the inbuilt microprocessor which controls the pressure and temperature inside the pot, as well as ensuring your food is cooked for the optimum time. You will be alerted when your meal is ready and can also enjoy the included accessories such as a handy recipe booklet, serving spoon, soup spoon, measuring cup and a steam rack!
#Steamer #Cooker #Instant #Healthy_food #Easy_cooking #New_recipes
#5 Best Instant Pot for Large Families: Instant Pot DUO Plus 8 Qt 9-in-1
For families with many mouths to feed it can be a real challenge getting a wholesome and healthy meal on the table every night. Thanks to an Instant Pot this challenge just got that much easier and this 8-quart pot (the largest Instant Pot available) is capable of serving families of around 6 people.
Whether you fancy some slow-cooked meat, an instantly flavorsome stew, a rice dish or chili this Instant Pot can do it all. It doesn't stop there either, as this Instant Pot can also cook eggs, make yogurt, sauté, steam, sterilize, warm up food and it can even make cakes!
You can also be confident that your food is being cooked safely with this Instant Pot. All of the materials that your food will touch are food-grade 304 stainless steel which is non-toxic. Plus, the Instant Pot is UI certified and has a multitude of safety features fitted which are there to keep you and your food safe. The blue LCD screen also makes this Instant Pot very easy to use as you can easily navigate between the settings and check the status of your delicious meal.
#Large_instant_pot #Batch_cooking #Healthy #Wholesome_food #Instant_Pot_Recipes #Food
The Best Pressure Cookers of 2022
| Image | Product Name | Price |
| --- | --- | --- |
| | Cuisinart PSC-350 3-1/2-Quart Programmable Slow Cooker, Silver, 9-1/2 in H x 9.1 in W x 12.67 in L | $43.75 |
| | Tayama TMC-60XL 6 Quart 8 in 1 Multi Function Pressure Cooker, 6 Qt, Black | $51.50 |
| | Chefman 2.5 Qt. Electric Pressure Programmable Multicooker, Prepare Dishes in an Instant Aluminum Pot Multifunctional Slow, Rice Cooker/Steamer, Quart | $51.65 |
| | Crock-pot SCCPPC800-V1 8-Quart Multi-Use XL Express Crock Programmable Slow Cooker with Manual Pressure, Boil & Simmer, 8QT, Stainless Steel | $69.99 |
| | Mueller UltraPot 6Q Pressure Cooker Instant Crock 10 in 1 Hot Pot with German ThermaV Tech, Cook 2 Dishes at Once, BONUS Tempered Glass Lid incl, Saute, Steamer, Slow, Rice, Yogurt, Maker, Sterilizer | $79.97 |
| | Power Pressure Cooker XL 6 Quart - Silver | $88.49 |
| | BSTY Premium 6 Quart Pressure Cooker with 13-in-1 Cook Modes Including Slow Cooker and Manual Electric Pressure Cooker | Stainless Steel | $89.99 |
| | GoWISE USA GW22702 Pressure Cooker, 10-QT, Copper | $89.99 |
| | Cuisinart CPC-600 6 Quart 1000 Watt Electric Pressure Cooker (Stainless Steel) | $99.95 |
| | Power Pressure Cooker XL 8 Quart, Digital Non Stick Stainless Steel Steam Slow Cooker and Canner | $125.66 |
| | Breville BPR700BSS Fast Slow Pro Multi Function Cooker | $249.95 |
Conclusion
When it comes to feeding a family it can take up a lot of time and worry, especially when you have a million and one other things on your plate. This is why the Instant Pot is revolutionizing the way people cook as it is capable of creating delicious and healthy meals quickly and easily. All you need to do is throw in the ingredients, select the setting and wait for your food to cook. With so many settings to choose from you can enjoy a variety of savory and sweet dishes with an Instant Pot.
There are a number of different Instant Pots to choose from which vary in size and features. If you're a small family you might want to opt for the Instant Pot Mini (3 quarts) or larger families can go for as big as an 8 quart Instant Pot. There are also Instant Pots that have smart features which allow you to receive alerts about your dinner through an app on your smartphone. Whatever you decide, an Instant Pot is sure to make your life a whole lot easier and your meals even more delicious!