For some customers like me, buying a digital thermometer for your kitchen is not as easy as imagination. When you search the keyword "digital thermometer", there are about 105 million results with a variety of brands, types available from a few dollars to hundreds. After a very long time for searching, considering and making the decision, I bought my first commercial digital food thermometer. Now I want to share with you what I've collected about this product at that time from what is a digital thermometer? Which one is the best commercial digital thermometer for you? What are different types and what factors to consider when buying one? Shall we begin?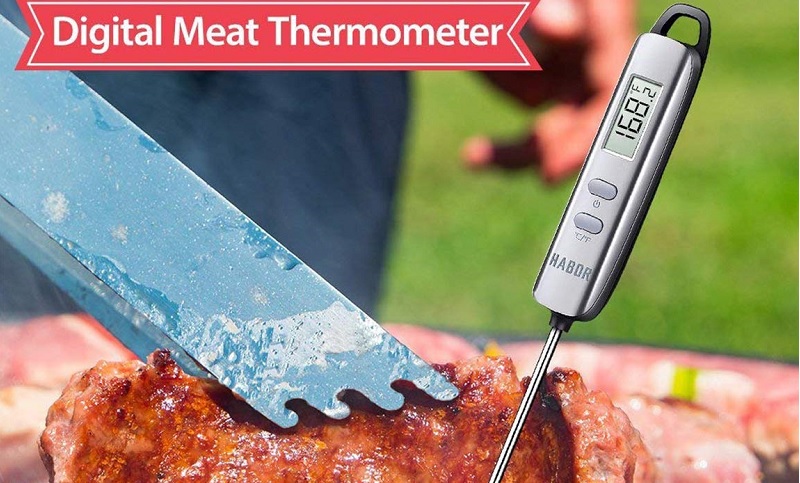 You might want to see: Best Commercial Soup Pot.
What is Commercial Digital Thermometer?
A digital thermometer is atemperature measuring equipment. Digital thermometers are used in industry, home, applications, especially in food preparation. Before it is "invented", the liquid thermometer is the most popular image of a temperature meter; until it is recently becoming more common due to its accuracy, safety and ease of use. Reading the temperature that is given on a digital one, usually to one decimal place sot it is more precise than any kind of thermometer.
What does Commercial Digital Thermometer Use for?
For commercial food thermometer, you can use this device in order to improve the quality of food that you are about to prepare. If it is cooked in an efficient and accurate temperature, it will bring your meal to a higher level.
With a commercial kitchen thermometer, you don't need to cut open a piece of anything, just stick a toothpick in and carefully observe or set a timer and wait to serve your meal perfectly. For a meat-lover, a commercial meat thermometer will be the best application tool in his or her kitchen. It is very essential when cooking raw meat and then grilling, roasting or frying it, it will definitely be the step-up of a liquid or an old analog thermometer. A commercial candy thermometer is also a common digital temperature measuring device of home chefs or professional chefs because you can observe the consistency of candy and know when is the best time to stop boiling the candy mixture.
What Types of Commercial Digital Thermometer?
According to the United States Department of Agriculture, there are seven types of commercial digital food thermometer. In this part, I will introduce some common types to you.
#1 Thermistors or digital instant-read thermometers.
Thermistors are thermometers that are made of ceramic materials formulated from metallic oxides. They are marked with a standard scale and suitable for a small range of temperatures. Thermistors can read the precise temperature in about ten seconds. They use a semiconductor that is sensitive to temperature and attached to the tip of the probe. They can place at least ½ deep and measure the temperature in thin and thick foods, normally thin food. Remember that they are not designed to remain in the food while it is cooking but you can check the temperature when it is about to be well cooked or near the end of cooking time. Their main limitation is that they cannot be used in an oven.
#2 Bimetal or dial-instant thermometers
The reading speed of bimetal thermometers is slower than thermistors because they take around 15 to 20 seconds. Their probe is up to three inches thick so they cannot be used to measure the temperature inside thin foods. Roasts, casseroles and soups are kinds of food that you can use the dial-instant thermometers.
#3 Thermometer-fork combination
Thermometer-fork combination is convenient for grilling and it can take from two to ten seconds to read the temperature. You can use these thermometers to measure the temperature of both thick and thin foods so grilled or smoked meats are perfect for them. When using these digital fork thermometers, remember to place the tip at least ¼ deep in the thickest part of your food.
Besides these types, you can choose the four remaining ones, including thermocouples, disposable/single-use food thermometers, liquid-filled thermometers and oven-safe bimetal thermometers. However, they can take more than a minute to read the temperature of food (except for the thermocouples and disposable ones: less than 10 seconds).
Top 5 Best Commercial Digital Thermometer 2022: Honest Reviews
#1 Polder THM-515 Candy Thermometer
The Polder thermometer is of stellar construction with a steel and solid body so it is safe for dishwasher. The temperature range of the Polder is from 90 degrees F to 400 degrees F. It is equipped with a handle which is made of steel and a clip in order to attach to any cook wares such as pans or pots; however, it is quite hard for a clip to attach to pots with a bit of curves at the top.
One more plus point of this thermometer is that you can hold and even use in the oven because its insulated handle does not retain heat. You also can easily see the precise temperature through the face of the thermometer, it is large and legible. The Polder thermometer has a 1.5-inch buld so if you want to get an accurate reading, place your fluids at least over 1.5 inches of your pots.
However, there are some drawbacks of this thermometer that I don't like. First, it is huge and seems not suitable for small pots and pans with around 15 inches in length. Second, because it is made of steel and has sturdy design so there are some sharp edges that can cut yourself if you don't hold it carefully.
#2 Habor 022 Commercial Meat Thermometer/Candy Thermometer
This instant-read thermometer just takes 4 to 6 seconds to read out speed so it can bring you the precise temperature and prevents you from the Salmonella if your meat is undercooked. This is designed with a super long probe, around 4,7 inches in length that can detect the core temperature of many types of meat such as huge turkey, chicken.
The temperature range of the Habor thermometer is from -58 degrees F to 572 degrees F so you can check a variety of food from meat, desserts or beverages… It is also very to use like many other thermometers just through inserting the probe into your food. The Habor thermometer includes a battery and has a function of auto shutting off so your battery life will be extended longer. Please note that this kitchen tool cannot be left near or in high temp environment such as oven, frying pan or grill.
The Habor thermometer is awesome but the fact that the battery door is also affected by the heat from the food. Moreover, the thermometer doesn't work well if the new tape is not applied frequently because it is heat affected too. It would be perfect if the manufacturers fix this flaw and make the door in order not to melt and warp.
#3 Rubbermaid Commercial Refrigerator Thermometer
The Rubbermaid thermometer is perfect for any kitchen that can use for many kinds of cooler from traditional refrigerators, mini fridges, freezers… It is made of durable material like many thermometers that is stainless steel and also has shatter proof lens to makes it withstand tough and highly dependable. It comes along with a convenient hanger that allows it to be easily suspended from the refrigerator rack.
The Rubbermaid thermometer can read between 20 degrees F to 80 degrees F – much lower than the instant-read meat thermometers because they have a more specific environment than that of meat that is cooked by oven, grill or frying pan. Moreover, this thermometer does not need battery power because it can read instantly so you don't have to worry about the heat effect to the battery.
#4 Taylor Classic Commercial Oven Thermometer
The Taylor Classic thermometer is a wireless oven thermometer that ensures your baked food is always cooking at the accurate temperature. It also has a stainless steel for added strength and durability. The temperature readings are from 100 to 600 degrees F so it is safe for oven and you can see it easily even from a very far corners because of an extra large 3.25 inch analog dial, a glass lens and red pointer. In addition, the Taylor large dial oven thermometer is designed for all oven types and can be hung from a rack or stand on its own.
I think this thermometer is a must have kitchen tool for serious bakers because everything works great, especially the temperature reading function. The heat insides the oven is a key point to decide the quality of your cakes so with a highly accurate thermometer as the Taylor one, it might be reliable and suitable for a bake lover.
Nevertheless, there are some complaints about this kitchen appliance but the most highlighted disadvantage is its pointer sometimes gets stuck so it cannot show the exact temperature at the moment, this may cause some food burnt or overcooked.
#5 Anpro Commercial Meat Thermometer
As many thermometers, the Anpro one is a stainless steel thermometer which has a great feature if you want to use for different purposes.  It has a wide temperature range from -50 degrees C to 300 degrees C, of course, it is the perfect range for candy making.
The Anpro is designed with a very large LCD that helps you read the temperature much easier, faster and precise than that of an analog thermometer. Sometimes, you have to admit that you also read the temperature wrong on an analog thermometer.
It is an 8-inch digital thermometer with a 4.9-inch probe that can be helpful for you and prevents hand burning.  This large probe maybe useful if you have to place the thermometer to go deep into the pot, especially for candy making.
This thermometer also has a minus point because it doesn't have a stainless steel clip so that it can be attached to the side of the pot. A plastic clip on the probe's cover will make a stronger possibility of hand burning.
What to Consider Choosing a Good Commercial Digital Food Thermometer?
There are so many thermometers on the market, so I think this part will be helpful for you to know what factors create a complete thermometer that is suitable for your kitchen needs. I recommend you to follow the information below to choose your own commercial digital thermometer.
#1 Accuracy
Above all, the decision that makes you buy a kitchen thermometer is that it can measure the precise temperature of food. Therefore, accuracy is the key point of a digital kitchen tool that helps your meal to be cooked at a perfect temperature.
#2 Speed
According to my experiences, speed is an important factor because for home cook, you might want your thermometer to read the temperature as fast as possible. So look for an instant-read thermometer that can take below 10 seconds to measure the temperature.
#3 Temperature range
I think if you choose a thermometer, it is way better when it is equipped with a wide temperature range. As an example, a commercial meat thermometer can run from 32 degrees F to 392 degrees F but for an all-purpose one, should you have a wider range of temperature one?
#4 Digital or Analog?
As we know, a digital thermometer can read temperature and show the results electronically through a LCD screen. Some will have intelligent function that even beeps to alert you once your food reach near the set-up temperature.
On the other hand, an analog one would be cheaper and more common in the groceries markets. A mercury or spirit will go up and down to indicate readings. They are normally has metal or glass design and also take a few minutes to settle on the right reading.
If you prefer a faster and more accurate temperature readings thermometer, go for a digital one. But on the contrary, an analog thermometer will be more economical and easier for you.
Conclusion
Now, after reading an over 2000-word essay about commercial digital thermometers,  I hope you will pick some helpful pieces of content and then use it to buy the most suitable one in order to serve a perfect meal for your family. Whether you use it for your consumption or not, you will definitely need to have a thermometer.