Best soup and stock pots
When it comes to cooking the tastiest food, it often boils down to having the most delicious stock (pardon the pun). However, stock pots come in all sorts of materials, sizes, weights, and qualities so it can sometimes be difficult to know which way to jump when it comes to investing in one for your home. In this post, we take a look at some of the key things to be aware of when it comes to taking the plunge, offer up a tasty beef stock recipe, and let you know our favorite stock pots and soup pots.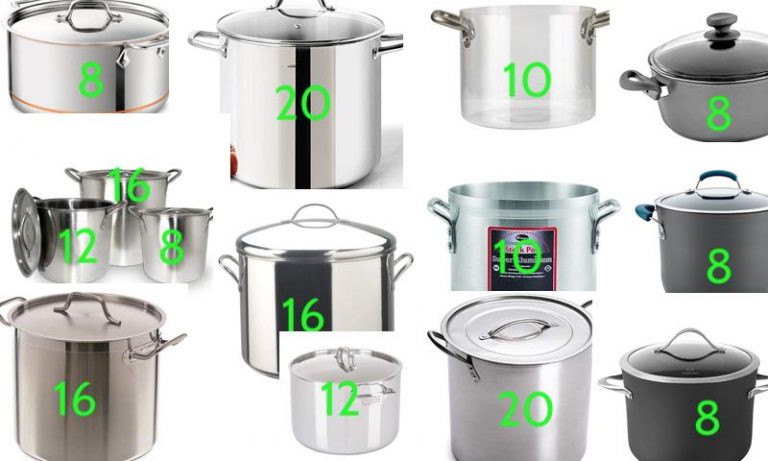 Why buy a stock pot?
It may surprise you to learn that stock pots, sometimes also called soup pots, are not solely for making stock and soup. That's right! You can do far more with a stock pot, from making a delicious slow-cooked stew to, boiling a ham for Christmas day stock pots offer a whole lot more than their name alone suggests.
What material is best for stock pots and soup pots?
The key consideration you need to consider when you have decided to buy yourself a soup pot is what material you want. Some are better for even heat distribution, some work better on induction stovetops, and others provide good enough service at a reasonable price. So the material you choose will always reflect how much you have to spend, what you intend to use your stock pot for, and how long you want to use the same pot for. Here, we will outline the basics to consider when picking the right material for you.
#1 Copper stock pots
For many copper is the material of choice when it comes to cooking thanks to its impressive conductivity and precise and even heat distribution. However, all this does come at a cost since copper does not come cheap so you will be looking at the higher end of the market if you plan to go down this route. It is also important to note that copper pots will always be lined with another material due to the fact that copper is highly reactive if it is to come into contact with any food or water. The overall quality of the pan will therefore also be dependent on the conductivity of this lining material.
#2 Aluminum stock pots
For those looking for a stock pot at the other end of the spectrum in terms of cost, aluminum pots should be the direction you look in. If you're unsure of the quality, just go take a look in your kitchen cupboard as you'll likely already have a pan made out of this stuff. If it does the job for you, then you should be golden with an aluminum stock pot, but if you find it doesn't cook evenly and deteriorates quickly, then you might want to think about another material.
#3 Stainless steel stock pots
For a stock pot that combines a reasonable price with durability you probably can't beat stainless steel. It also has one over on aluminum in that there are no health concerns with regards to it coming into contact with acids and alkalines in food. These pots are also great if you have an induction cooker as their flat base helps to ensure you won't accidentally scratch your glass stove top. The fairly major downside of stainless steel is that it doesn't have the best conductivity and can cook a bit unevenly, although this is somewhat ameliorated when combined with a copper center.
#4 Titanium stock pots
If you are after a pot that will be with you for life but find stainless steel too heavy then titanium stock pots could be just what you need. Titanium is both incredibly strong and surprisingly lightweight. Like stainless steel, you don't have to worry about it coming into contact with alkalines and acid. However, along with stainless steel titanium's conductivity is not something to write home about. Titanium pots are also often unsuitable for glass top stoves.
#5 Glass stock pots
Perhaps the major benefit glass pans have over any other is the fact that, so long as they have no metal parts, they can go in the microwave right in the pan. This saves on washing up and makes it easier to get everything to the right temperature just before serving up. There's nothing worse than slaving over a delicious meal all day, only to have to serve up all the dishes at a different temperature. The downside of glass cookware is that it is more prone to damage (and will likely shatter if dropped), it can burn food easily, it is heavy, and it is not particularly good at distributing heat evenly.
What to look out for when buying a stock pot or soup pot
So we've explained how to make your decision when it comes to the material but what else should you look out for when investing in a new stock pot? Here, we take a look at some of the other key considerations you need to make before handing over your hard earned cash.
#1 Size
Typically, stock pots and soup pots are the largest item of cookware you'll have in any kitchen but they do come in a range of sizes. Indeed, it is easy to find stock pots from 8-quarts all the way up to 20-quarts without any hassle. The key consideration here is, how many people do you intend to be cooking for? For big family meals and dinner parties you'll want to go for a bigger size, but if your family is small or you don't envisage cooking for lots of people a smaller one will do just fine and save you some money.
#2 Thick Bottom
Beyond the material itself, it is also important to consider how thick the bottom of your pan is. Generally speaking, a heavier bottomed pan will be better at distributing the heat evenly and ensuring the food doesn't instantly stick to the bottom of the pan. A bit of weight to a pan is good on most surfaces too since it holds the pan in place better.
#3 Weight
Whilst a decent weight is important, it is also important to consider the fact that you are going to need to be able to lift the pan when it is full to the brim of a lovely stock or soup. If you're tipping out the bones of your stock you don't want to be unable to lift the pan, so make sure you pick a pan that you are going to be managed even when it's full!
#4 Handles
Handles are an often overlooked consideration when it comes to pots and pans but no one likes it when the handle heats up as much as the rest of the pan so they should not be forgotten. Try to pick a handle made of a material that is not a good conductor of heat and has good grips. If you have opted for a glass pot so that you can put it in the microwave, you should also be sure to avoid picking a glass pot with metal handles as this ruins the point.
#5 Lids
Personally, when I first got a stock pot which came with a lid with straining holes in, it was a game changer. This is definitely the lid to look out for if you know you are going to struggle with a huge heavy pan full that is filled right up. It is also to have a lid you can see through so you can check when things are done without having to let out all the heat and steam it is trapping inside.
#6 Costs
This pretty much goes without saying, but it is worth remembering, that you need to consider the cost. Just because something is more expensive it doesn't mean it will be better, you also need to consider the materials it is made with. Equally, going for the cheapest material won't necessarily lead to cost savings if it breaks in a couple of months or everything gets easily burnt to its bottom.
Best beef stock recipe
If you've never made stock before, it can seem like a daunting task. However, it is easy and will enhance the flavor of your cooking for a long time as you can freeze the goods and add it to a whole bunch of meals. Make sure to freeze it in individual portion sizes though as you should not defrost and re-freeze stock (or most foodstuffs for that matter)
#1 Ingredients
– 4 pounds of short ribs or beef shanks
– 3 carrots (roughly chopped)
– 3 sticks of celery (roughly chopped)
– 2 onions (roughly chopped)
– 4 cloves of garlic
– 9 whole peppercorns
– 1 teaspoon of dried thyme
– 1 teaspoon of dried oregano
– 2 Bay leaves
– 5 sprigs of fresh parsley
#2 Processing
– Roast your beef bones uncovered in a roasting tray for 30 minutes at around 450 degrees Fahrenheit.
– After 30 minutes, add the celery, garlic, onions, and carrots and roast for a further 30 minutes.
– Drain off any excess fat in the roasting tray.
– Using tongs drop the bones and vegetables into a stock pot filled with cold water.
– Add warm water to the roasting tray to get the brown bits stuck on the bottom as these will help to thicken your stock. Stir it and drop this liquid into the stock pot.
– Add the seasoning and the herbs but don't be tempted to add more herbs than this at the early stage as they tend to dominate the flavor if added too early due to the fact that you are reducing the stock down. Reducing the stock makes the flavors more concentrated. Bring to a boil (this could take 20 minutes in a big pot) then simmer for at least 4 hours.
– Every 30 minutes or so try to skim off any foam forming on the top of the stock. If the ingredients are not covered, you should also top up the pan with more cold water.
– Strain the stock (ideally through muslin). Leave it to cool overnight if possible – this allows the fat to congeal at the top making it easy to scrape off (you don't want this in your stock as it will make your cooking greasy).
– You can also scrape out any meat left in the bones and it will taste great in a sandwich.
Top 12 Best soup and stock pots 2022
#1 Best soup pot made of copper: All-Clad 6508 SS Copper Core Stock pot, 8 Quart Silver
For those of you wanting to make a good investment, we recommend this copper core stock pot from All-Clad. It will set you back around $250, however, it is highly unlikely that you will ever have to buy another stock pot again in your life! With a limited lifetime warranty, and made in the USA, you can be confident that with this stock pot you are getting a truly quality product.
The thick copper core ensures that food is heated evenly throughout and is a great material to have in your stock pot. To ensure that there is no reaction with the food this stock pot is lined with quality stainless steel which reinforces the copper core. Riveted stainless steel is also the material used for the sturdy handles of the stock pot which are designed to ensure they are comfortable to hold. You can use this stock pot in both the oven and broiler.
#Copper #Copper_Pots #Copper_Stock_Pot #Stock pots #Soups
#2 Best stock pot made of stainless steel: Homichef commercial grade stainless steel stock pot
If your budget won't extend to a copper-lined stock pot but you still want a top quality product then you should check out this stainless steel stock pot from Homichef. This large stock pot will be the perfect addition to your kitchen and will be a great vessel for cooking soups, stocks, casseroles, and even a big batch of curry.
With 3-Ply base and heat surround features, this stock pot enables even heat conductivity and even distribution. Naturally non-stick and nickel free with no added toxic chemicals you can be confident that when you cook there isn't anything nasty being released into your stock pot. This quality stock pot can be used with gas, induction, halogen and ceramic stovetops and is both oven and dishwasher safe.
#Stainless_Steel #Stainless_Steel_Pots #Stainless_Steel_Stock_Pot #Stock pots #Soups
#3 Best pot for soup made of glass: Knindustrie Glass Pot MOMA Capacity 10 quart
Here we have something a little different – a glass stock pot. This super stylish glass stock pot made by Knindustrie will be a nice aesthetic addition to your kitchen as well as being a great vessel to cook your favorite soups in. The handles are made out of steel and the pot has a capacity of 321.2 fl oz – so plenty of room to cook up some delicious soup for the whole family.
This glass stock pot can be used on gas and ceramic hobs but not on induction. The benefits of using a glass pot are that you can be confident that your cooking is not being infused with any harmful materials. However, make sure you check out the instructions before using as glass pots can be very easy to break! If you have a gas hob you will need a special flame distribution plate when using this product.
#Glass #Glass_Pots #Glass_Stock_Pot #Stock pots #Soups
#4 Best pot to make soup made of titanium: Saflon titanium non-stick 8 quart stock pot with tempered glass lid
Titanium pots are conventionally very strong but also lightweight, and this stock pot from Saflon is no exception. This stock pot is made of three layers of premium QuanTanium non-stick titanium coating along with 4mm of aluminum to reinforce the strength of the pot. Thanks to the presence of aluminum in this stock pot it will heat up quickly and the heat will be distributed evenly across the pot so your food cooks evenly.
You can be sure that this stock pot is built to last and it is also built to resist scratches – it's ready for whatever you have to throw at it in the kitchen. This stock pot is also PFOA, lead and calcium free so you can be sure that the healthy food you are cooking for your family stays that way. Plus, it comes with an unframed tempered glass lid so you can keep an eye on your tasty soup as it's cooking.
#Titanium #Titanium_Pots #Titanium_Stock_Pot #Stock pots #Soups
#5 Best soup pots made of aluminum: Winco USA Super Aluminum Stock Pot, Heavy Weight, 10 quart
This classic stock pot from Winco USA is a great choice if you are planning on doing lots of batch cooking. Made out of 3000 series aluminum this is a super sturdy stock pot which you will be cooking your favorite soups in for a lifetime. The aluminum base means that your food will be heating up fast and also evenly – ensuring your recipes taste as delicious as they should do.
With sturdy and thick handles, this stock pot is easy to maneuver so lifting it will not be a problem. The 4Mm thick rim and bottom are designed to withstand an unlimited amount of uses. This stock pot is a great investment and a great addition to any kitchen. It's the sort of product that becomes your go-to pot for whatever you're cooking – whether it be soup, pasta sauce, dhal or casserole.
#Aluminum #Aluminum_Pots #Aluminum_Stock_Pot #Stock pots #Soups
#6 Best stock pots set: ExcelSteel 570 Stainless Steel Stock pot Set of 3 with Lids
If you're a keen cook or a budding professional chef then having this set of 3 stock pots in your repertoire is a must. For a bargain price, you will receive 3 quality stock pots that will allow you to cook a meal fit for kings. Made out of quality stainless steel these stock pots are designed to last a lifetime. Plus, you don't need to worry about storage space as these clever pots stack into each other meaning they should slot easily into your cupboard.
Invite all of your friends and family around and impress them with a banquet of delights – be it 3 different curries, vegetable dishes or sauces to die for. These pots are completely dishwasher safe and are designed to resist rust build up when taken care of properly. The riveted handles also ensure that these pots are easy to transfer from stove to plate. Happy cooking!
#Stock_Pot_Set #Home_Cooking #Cookware #Tasty #Cooking_Sets
#7 Best stew pot: Rachael Ray hard-anodized aluminum non-stick covered stock pot, 8 quart
When the days are getting shorter, the nights are getting longer and there is a definite chill in the air it is definitely time to put a stew on the stove. With this best stew pot from Rachael Ray, you are guaranteed that your stews will be cooked to perfection. The long-lasting, hard-anodized construction means that this pot is super durable and it also ensures that heat is distributed evenly. Its interior also has a non-stick coating so that this stew pot is easy to clean.
In addition to being great at cooking stews, you can also use this stock pot to cook soup, curries or pasta sauces – the opportunities are endless with this sturdy pot in your kitchen. It looks great too modeled in stylish gray with marine blue rubber handles. The rubber handles make picking up this stock pot a comfortable experience and ensure that the pot won't slip out of your hands. Oven safe to 350 degrees you can stick this in the oven to keep your stew warm before your family gets home.
#Stew #Stew_Pot #Tasty_Stews #Chef #Slow_Cooking
#8 Best large soup pot: Faberware Classic Stainless Steel 16 Quart Covered Stock pot
If you're looking for a classic stock pot to cook soup for all the family, or perhaps you run a café and soup of the day is the dish du jour, then check out this large soup pot from Faberware. This stainless steel 16 quart covered stock pot with a thick aluminum core will make cooking up your favorite soups super easy and with rapid, even heating they will be cooked to perfection.
With a self-basting lid included you can be reassured that the heat and moisture are sealed inside the pan as you cook and the stainless steel handles make for a comfortable grip. Faberware has over a century of delivering top performing cookware that is well renowned for its reliability. Investing in this large soup pot will be a worthwhile investment and a great addition to any cooks kitchen.
#Large_Pot #Large_Soup_Pot #Large_Stock_Pot #Cooking #Master_Chef
#9 Best 20 quart stock pot: Imusa USA L300-40317 Stainless Steel Stock Pot – 20 Quart
Cooking for special occasions or for big families requires a large stock pot. This 20 quart stock pot from Imusa USA is made completely of stainless steel and is a strong contender if you're looking for a basic but effective cooking pot that does the job. Whether you're cooking for a large group or just fancy doing some batch cooking at the beginning of the week, this 20 quart stock pot will meet all of your culinary needs.
With a lid included this stainless steel stock pot all of your delicious flavors will be locked inside. This multipurpose pot can be used for cooking stews, soups, curries, and is even big enough to cook a lobster if you want to be really adventurous! This is a great stockpot to have in your repertoire and a good choice if you are on a budget. Despite the low price of this 20 quart pot, it is incredibly versatile and durable.
#20_Quart_Stock_Pot #20_Quart_Pan #Big_Stock_Pot #Big_Pans #Stock
#10 Best 16 quart stock pot: Update International 16 quart stainless steel stock pot with cover
A 16 quart stock pot is a decent size if you have a hungry family to feed and this pot from Update International is just the ticket if you're looking for a hard wearing and durable stock pot. Made of sturdy stainless steel with an aluminum core you can be confident that this stock pot will heat up fast and will have even heat distribution ensuring your food is as delicious as you intended.
If you have an induction hob and have been struggling to find a stainless steel stock pot to fit the bill you will be pleased to hear that this versatile stock pot is suitable for induction cookers. The heavy bottom base makes it harder to burn your food whilst also ensuring its durability. With this pan in your life, you can make as many sauces, soups, curries, casseroles as you like and it will scrub up as good as new every time.
#16_Quart_Stock_Pot #16_Quart_Pan #Medium_Stock_Pot #Medium_Pans #Stock
#11 Best 12 qt stock pot: Viking Culinary 3-Ply stainless steel stock pot, 12 quart
A true investment for any family kitchen is this 12 quart stock pot from Viking Culinary. Made from surgical grade stainless steel it is likely that this stock pot will be passed from generation to generation with many a culinary tale to tell. A perfect stock pot to cook your favorite dishes in whether it be a standard weekday meal or for experimenting with new recipes.
Thanks to the 3-ply stainless steel construction this means that heat energy is transferred side to side and from the bottom to ensure even heat distribution. The clad construction also helps to achieve a rolling boil much quicker than other less quality stock pots. This stock pot can be used with any stove top and can also be put in the oven up to 600 degrees Fahrenheit. You will also be very pleased to hear that it is dishwasher safe.
#12_Quart_Stock_Pot #12_Quart_Pan #Small_Stock_Pot #Small_Pans #Stock
#12 Best non-stick stock pot: Calphalon contemporary hard-anodized aluminum non-stick stock pot, 8 quart
If you've had enough of your delicious creations getting stuck to the bottom of your pan it's about time you invested in a high-quality non-stick stock pot. This contemporary non-stick stock pot from Calphalon certainly fits the bill. With three layers of non-stick coating in the interior, you can be reassured that there will be no more scrubbing food residue away with this stock pot.
Made with heavy-gauge aluminum the heat will be distributed evenly across this pan to ensure that your food is cooked to perfection. It is also a great choice if you are wanting to cook dishes on a low heat for a long time as the high sides and narrow opening help to minimize evaporation during slow cooking. The handles are made from brushed stainless steel and are designed to stay cool whilst cooking so no more burnt fingers. You can also put this stock pot in the oven to keep your delicious creation warm until you are ready to eat.
#Stock_Pots #Non_Stick #Non_Stick_Pans #Homeware #Broth
Conclusion
A good quality soup and stock pot is an essential item for any kitchen be it professional or at home. Before purchasing a stock pot is it important to think about what your budget is and what material stock pot you can afford. Some of the priciest stock pots are made of copper which is the best at ensuring even heat distribution, however, copper stock pots are not in everyone's price range. There are plenty of aluminum and stainless steel stock pots out there that will also do a good job of ensuring your food is cooked to perfection (at half the price).
Investing in a quality stock pot is a wise choice as it is likely to be an item that is used daily in your household. These multipurpose pots can be used for making stocks, soups, bone broths, pasta sauces, curries, stews – the list is endless. Selecting the right stock pot for you can feel like a time-consuming task, so make sure you check out our top tips and reviews above to find the perfect stock pot for your kitchen.