Thin hair brings more sad and difficult experiences to deal with than you think. Once you have started to lose abnormal hair, your hair will thin very quickly. And if you do not choose a suitable treatment method, your hair will most likely be more serious, leading to baldness and many other cases. As someone who has been dealing with thinning hair since the past two years, I have tried many thinning hair treatment products, but they really don't work. I understand how difficult it is to treat thinning hair and stop hair loss because I have failed many times. And chances are you will soon face thinning hair because of excessive hair loss, even if you have not yet reached menopause. But luckily, I found the product to be an effective treatment for my thinning hair, and I am still using it to this day. Have you ever heard of ACTiiV Hair Science? It is this brand that has helped me successfully treat hair loss, and therefore I would recommend it to anyone who is treating thinning hair that has not been effective. I will list out the information, my personal experiences about this product. Based on this ACTiiV Hair Science reviews, you can decide if it's right for you.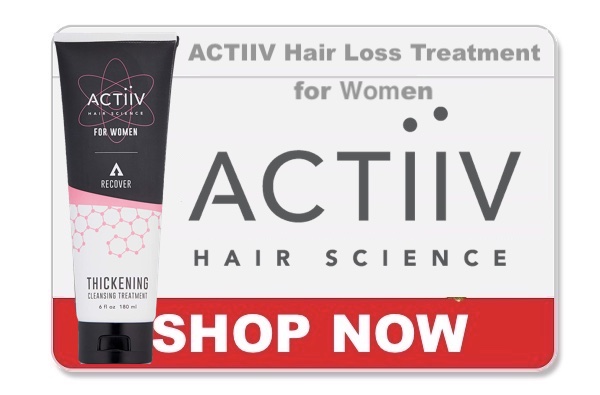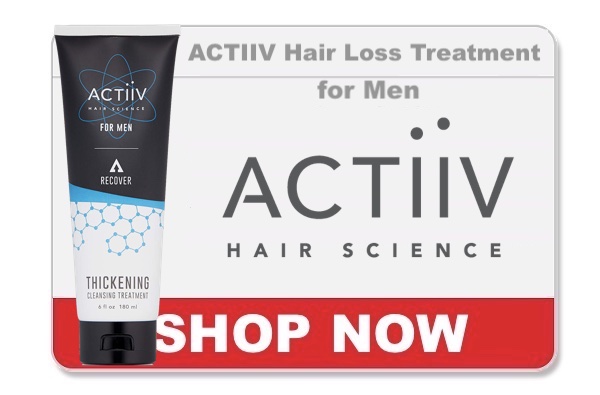 What is ACTiiV Hair Science?
ACTiiV Hair Science is a fairly new brand in the hair loss treatment industry, however they are quite a household name at professional hair salons. This brand focuses on hair products to help reduce hair loss, and they're pretty good at it. ACTiiV Hair Science has its own website where you can buy ACTiiV products directly from them, but the website doesn't have much information about the manufacturer. I found out about ACTiiV Hair Science at a trade show and was quite impressed with their introduction. This brand has the goal of providing the safest and most effective natural hair growth and hair restoration products for everyone. They only offer products that are of great quality, and that really work. They also target customers in salons, as you know salons only allow products that can work in their stores. And that partly guarantees the prestige of ACTiiV Hair Science.
This brand offers products that tend to be pricey, but worth a try. ACTiiV Hair Science brings to their product many breakthroughs in the field of hair care, so they stand out from many other products on the market. They offer a collection of premiums, professional hair care products for people experiencing chronic hair loss, of all ages and genders. They have a line of revolutionary shampoos for your thinning hair.
Their popular shampoo line includes ACTiiV Recover Thickening Shampoo and ACTiiV Renew Healing Cleansing Treatment. Both of these ACTiiV product lines offer a variety of benefits for your thinning hair, and essentially both shampoos are meant to be used the same way. But it is best to use in combination with ACTiiV conditioner for the best performance. Each shampoo line will meet and suit individual hair needs, but basically the two have a lot in common. I used their Recover shampoo line on the advice of the customer service staff. And it really works with my thinning hair. I find that ACTiiV Hair Science has many potential benefits and their product is worth it. You can learn more about the ACTiiV product lines at their official website.
ACTiiV Hair Science review and recommendation
I would highly recommend ACTiiV Hair Science to anyone who is experiencing thinning hair, persistent hair loss, baldness and has not been able to find a product that works. I didn't spend a lot of money on other famous hair loss products, including the expensive ones advertised by celebrities. However, it didn't work for me during my year of hair loss treatment, it just drained me financially. Then ACTiiV Hair Science revolutionized my thinning hair.
It is built on the latest breakthroughs in hair care, and it contains the best nutrients for hair growth. Regardless of whether you've entered menopause, or are younger or experiencing hair loss due to other reasons, ACTiiV Hair Science can help you restore your hair. Therefore everyone should try ACTiiV Hair Science and decide for themselves. Drawn from leading thinning and thinning hair care research, combined with natural ingredients, this brand's hair loss treatment products are well worth the investment. Not everyone has the financial means to pursue expensive treatments, or to endure painful surgeries.
So, this value-for-money hair loss shampoo is a good investment that you can use for several months. ACTiiV hair loss treatment products are easy to use, do not take time, and are also painless for the user. That's why I highly recommend their products and hope more people know about this brand, because they really work. Visit the vendor's website to see more customer reviews!
General  ACTiiV Hair Science reviews
As mentioned, I came across ACTiiV Hair Science during a trade show, and to be honest I didn't have any prior impressions of this brand. When I heard their recommendation, I felt that there was something very interesting about ACTiiV Hair Science, but they are a new brand so I was quite apprehensive. I then searched for more information about this brand and researched previous customer reviews. In general, customers who have used ACTiiV Hair Science products have left positive reviews about this brand, and the comparison pictures before and after use have clearly changed.
Customers love the way ACTiiV Hair Science works on their scalps, so do I. They also appreciate product quality. Most people notice a noticeable change after a few weeks of use. This brand's shampoo made a difference in the health and volume of my hair in just a few weeks. And after using one bottle, my hair has noticeably thickened, the volume of hair has increased significantly. My hair loss has also been greatly prevented.
My hair didn't fall out as much as it used to, not even a handful of hair after every wash. I've been suffering from Alopecia for two years now and none of the other treatments I've tried have worked, but ACTiiV is what works wonders for my hair. I have used the Recover Thickening Cleansing Treatment to boost moisture and the overall health of my skin and scalp, and other customers can contact the brand for advice on the right product for their hair and skin condition.
#1 ACTiiV Recover Thickening Cleansing Treatment
ACTiiV Recover Thickening Shampoo is a line of products specifically designed to target hair loss using primarily natural, plant-based compounds. This product line includes shampoos specifically for men, and shampoos for women. Basically they have the same materials and mechanism of action.
ACTiiV Recover both target DHT to address the cause of hair loss in both men and women. It blocks DHT that is made to go deep into your scalp, more effectively than other DHT blocking shampoos I've used. This shampoo also cleanses the scalp, removing impurities from the hair follicles. ACTiiV Recover uses new technology to reach deeper into your scalp instead of just cleaning the outside like many other popular shampoos. This technology has been patented and it is safe to apply on your scalp.
In addition, in the composition of this shampoo line also contains green tea. This ingredient has the ability to expand your hair follicles, thereby allowing other natural ingredients to penetrate deep into the hair follicles. That is the reason that the hair follicle will be given more nutrients and then sealed more tightly. So DHT will not be able, or difficult to bind itself to your hair follicles, limiting hair loss. Green tea is also a natural ingredient, with many benefits. And this green tea technology is completely benign, safe to use on all scalps, and that's the good thing about this shampoo. Visit here if you are interested in this product!
#2 ACTiiV Renew Healing Cleansing Treatment
While the ACTiiV Recover Thickening Cleansing Treatment focuses on preventing and reversing DHT-induced hair loss, the ACTiiV Renew Healing Cleansing Treatment focuses on healing damaged hair. The things that cause hair damage are often due to over-styling. Styling your hair with heat, dyeing or bleaching your hair all makes your hair damaged and prone to breakage. That's why people with thin hair should never style their hair to make it thicker, it only makes things worse. This ACTiiV Renew shampoo line also contains a green tea formula and has the same effect as the previous product line.
Your hair follicles will be more nourished and your new hair will grow in healthier and less prone to breakage. This product line also stimulates your hair roots to grow out faster than the regular cycle. The manufacturer of this product can increase the percentage of your hair by 40-50% with consistent use. This dramatic improvement will progress depending on the condition and health of your scalp, but the average time it takes for you to start noticing a change in your hair is around a few weeks. If your hair is too damaged, it will take longer. Click here if you want to restore your damaged hair!
Are there any possible side effects with ACTiiV Shampoo?
ACTiiV Shampoo is a plant-based product, its formula contains various herbs and nutrients that are particularly effective in the treatment of hair loss. So it is benign and not harmful to scalp health. I have been using this brand's shampoo for quite some time and have not experienced any side effects. Some other DHT blocking shampoos cause side effects such as scalp irritation, facial hair growth, chemicals that affect health, and even some problems related to genitals. But ACTiiV Shampoo does not cause such serious side effects.
Users can tell if they are allergic to this shampoo if you check its ingredient list. Before you buy, check the herbs listed to see if you are allergic to any of the ingredients. Or you can also test a small amount of shampoo on your arm first and leave it for 5 minutes to see if the area is irritated. If there are any adverse reactions, you should definitely not use it. Customers can also consult with the brand's customer service staff, or the opinion of a therapist.
What are the advantages and disadvantages of ACTiiV Shampoo?
In order for you to have a better overview of ACTiiV's product, I will list out its pros and cons. This is my personal opinion based on real experience after a long time using their shampoo, and it is not the general opinion of other customers. So you can use this opinion to decide for yourself if ACTiiV shampoo is right for you.
Advantages:
Effectively blocks DHT, the leading cause of hair loss in both men and women
Combines Natural ingredients and vegan formulated
Easy to use
No need for daily use
Doesn't take much time, only 5 minutes treatment
SLS-Free
Does not strip the hair and scalp of its natural oils
Promotes fuller and thicker looking hair
Disadvantages:
May affect hair color
Above average price
ACTiiV provides a formula that is taken from natural ingredients, and they do not cause any dangerous side effects to the user. It is very easy to use and requires only two steps in one wash, first cleansing with shampoo, then conditioning with conditioner. With just these two steps, in about 5 minutes you have completed a treatment for your thin hair. You don't have to use it every day, so your bottles of shampoo and conditioner will last longer, which in turn also saves money because these bottles don't come cheap.
You can wash your hair three times a week, for 5 minutes each time. You should massage gently to clean the scalp, avoid scratching too hard. When you leave the shampoo on your scalp, you may feel a little stinging on your scalp, but it won't be too uncomfortable. On the contrary, I love that stinging sensation and it calms my itch. As mentioned, this is just my opinion and based on what I have experienced during use. You can make your own decisions based on it.
What is the leading cause of hair thinning?
I have mentioned DHT many times in this post, and many people probably don't know about it. But DHT is actually the leading cause of hair loss in both men and women. DHT stands for Dihydrotestosterone hormone, a hormone belonging to the androgen group, it is present in both men and women, it's just that the concentration of this substance is much higher in men than in women.
In the body, androgens are responsible for the expression of biological characteristics in males, including a deeper voice, hair and hair growth, and increased muscle mass. In the body, about 10% of testosterone is present. It is converted to DHT by the enzyme 5-alpha reductase. The hormone DHT is more active than testosterone, affecting many organs in the body such as prostate, gonads and hair follicles. The hormone DHT is the leading culprit, directly causing a lot of hair loss and baldness in both men and women. So, specifically, how does this hormone affect our hair?
A hair follicle is a sac-shaped structure located in the epidermis (outermost layer) of the skin. Normally, hair will begin to grow at the bottom of the hair follicle. The root of the hair is made up of protein cells and is nourished by nearby blood vessels. When DHT is transported to the hair roots, it will attach to special receptors on the hair follicle cells, thereby causing: Hair follicles to shrink and disappear, manifested by the hair will be weak, thin and easy to fall out, after it is very difficult or impossible to regrow. Stimulates overactive sebaceous glands, making hair roots weak, hair easily pulled from the scalp.
As discussed above, the hormone DHT is produced from testosterone under the catalysis of the enzyme 5-alpha reductase. The decrease in testosterone production in the body during menopause will lead to an imbalance between DHT and Testosterone. The level of DHT hormone will increase, causing more hair loss. For women, in the postpartum period and perimenopause, hormonal changes in the body also unbalance the levels of DHT and Testosterone, which leads to postpartum hair loss and pre-pregnancy hair loss.
Menopause, there are many cases of baldness. Based on the mechanism of formation and action of DHT, you can completely prevent the harmful effects of this hormone when combining the two mechanisms simultaneously. One is to inhibit the formation of DHT hormone by inhibiting the enzyme 5-alpha reductase. The other is to inhibit the action of DHT by blocking its binding to its receptor on the hair follicle. The ingredients in ACTiiV shampoo have been shown to inhibit the binding of DHT to the receptor, thereby helping to effectively block the action of this hormone on hair follicles.
Ingredient's information of ACTiiV Shampoo
ACTiiV Hair Science has created ACTiiV Shampoo from ingredients and solutions that are beneficial in keeping hair and scalp healthy and fighting hair loss. The typical ingredients of these products are all proven and guaranteed to be safe for users. I can list a few that stand out including:
#1 Panthenol
Panthenol is known as the "savior" of damaged, damaged or sensitive skin. Panthenol is a naturally occurring chemical compound closely related to vitamin B5. Or easier to understand it is a soluble derivative of Provitamin B5, which is pantothenic acid. Panthenol has the ability to improve the shine, softness and strength of your hair, and it can greatly increase your hair's diameter.
#2 Camelia Sinensis (Tea) Leaf Extract
Camellia Sinensis, also known as green tea extract, is one of the very popular ingredients in today's skin care products. Camellia Sinensis green tea extract is completely a natural extract from plants, so it has a high degree of benignity. This extract will help other active ingredients penetrate deep into the scalp and into the hair follicles. From there, the activity of stimulating hair regrowth will be much more effective.
#3 Aloe Vera
Aloe vera is often known as a natural cosmetic that cares for smooth skin for women. However, there is a great use of aloe vera that very few people know about, which is to treat hair loss. Aloe vera contains a lot of water, antioxidants, minerals, and vitamins that help nourish and restore shiny, soft hair. This material is also considered a biological active ingredient that helps to increase the efficiency of the hair regeneration process, helping hair grow stronger and faster.
#4 Trifolium Pratense Extract
Trifolium pratense is a flowering herb, belonging to the legume family. The flowers of red clover contain many nutrients such as vitamin C, thiamine (vitamin B1), calcium, magnesium, chromium, potassium, phosphorus, niacin and are a rich source of Isoflavones. Similar to the hormone estrogen, isoflavones are compounds that act as phytoestrogens. It may therefore offer many potential benefits in stimulating hair growth.
#5 Bacopa Monniera Leaf Extract
Bacopa Monniera Leaf Extract is widely applied in herbal medicine, and it is a precious herb. Several studies have shown that this herb extract contains alkaloids that can activate hair growth proteins. It is therefore purely a natural herb that can thicken your hair.
Where can I buy ACTiiV Hair Science products?
Having read this far, if you are interested in ACTiiV Hair Science and their hair loss products, you can visit the brand's official website. ACTiiV Hair Science has an official website that I introduced above, and they allow customers to order through this website. Ordering on this website is very simple and flexible.
Customers simply add their favorite products to the cart, then complete some checkout and payment information. I ordered through their website and the delivery time was fast. Ordering here will ensure that customers do not buy any poor-quality imitation products. In addition, you will also be able to buy products at the most favorable prices. Customers will also receive certain care when transacting through the official website of ACTiiV Hair Science. This brand is not only about effective products, but also about customer experience.