How to pick the best Bread Knife
A bread knife is definitely a must-have in any kitchen, especially if you have invested a lot in super sharp kitchen knife as cutting bread with this will turn in blunt in an instant. Bread knives also make it a whole lot easier to cut through soft or crumbly loaves of artisan bread, or delicious pastries, without ruining their shape and form. But what is a bread knife good for?
In this post, we will take you through what a bread knife is, how to choose the right one for your needs, and some of our favorites to have in the kitchen. We will also look into what is healthier between tortillas and bread and that although much maligned, bread actually outperforms tortillas in some cases so should not be permanently shunned form your kitchen.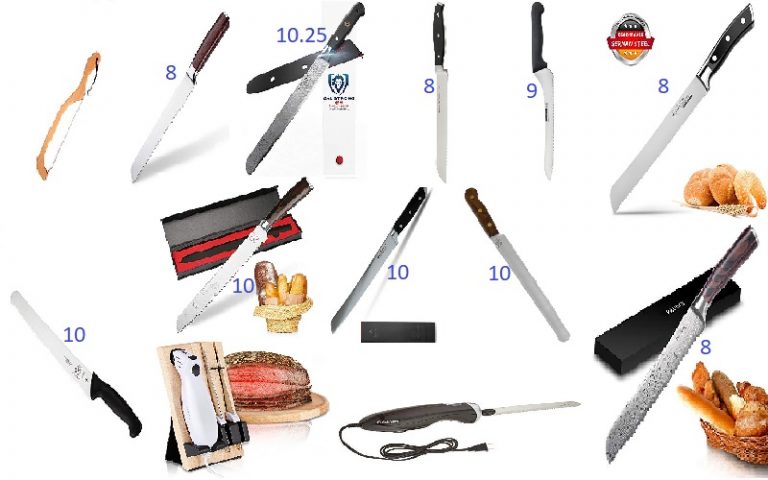 What is a bread knife?
Bread knives tend to be one of the longest knives in the kitchen and have a serrated edge to cut with. The serrated edge provides both grip and purchase that enables you to slice through the bread without having to apply pressure and squishing your soft bread in the process. If you used a straight-edged knife, you would be forced to apply pressure to get the necessary purchase to make the initial cut, ruining the shape of your slice!
Bread knives are so long because it makes them more versatile and the longer it is the more likely it will be able to slice a challengingly shaped loaf easily. However, the optimal length is probably somewhere between 0-10 inches as more than this could make it a bit unwieldy to use. Right-handed bread knives will have the serrated edge on the left-hand side of the blade which will be vice versa for a left-handed blade. This helps to keep cuts straighter.
Interestingly, bread knives will typically never need to be sharpened as it is the spiky serration rather than the specific sharpness of the blade that allows the knife to make a decent slice. You may also find a bread knife to be useful on softer food items (like tomatoes), challengingly large fruits (like melons and pineapples), or peeling troublesome vegetables (like butternut squash). Always apply as little pressure as possible and use a sawing motion and you'll get the best results with a bread knife.
How to pick the best bread knife?
There are probably just 3 key knives that every kitchen needs: a chef's knife, a paring knife, and a bread knife (sometimes called a serrated knife). This means you don't have to break the bank to get tens of different knives and can justify investing a bit more in three top-drawer knives that will last you a lifetime (or at least a decade or so). Here, we will outline how to choose the perfect bread knife for all your serrated knife needs.
#1 Serration Depth
So you know your bread knife needs to be serrated, but how deep should the serrations be for the best results? Well, you should look for knives that have fewer and deeper serrations with extra pointy tips that make it easy to bite into whatever you are chopping. Blades with shallow serrations that are slightly rounded or offering a large number of serrations are best avoided. The one issue with deeper serrations is the fact that it can make a bit more of a mess in terms of crumbs!
#2 Knife Length
As we've already mentioned, the optimal length for a bread knife lies somewhere between 9 and 10 inches, depending on personal preferences (if you have a smaller hand you might prefer the lower end of this length range). This length ensures you can get all the way across a big old round loaf from the bakery or a super large watermelon in just one slice!
#3 Knife Shape
This consideration is easy to overlook but is actually quite an important one. Typically serrated knives will be straight. However, some have a slightly curved blade that is offset to sit just below the handle which helps to make cutting in a straight line easy whilst doing the sawing motion required to cut through a crusty loaf of bread. Nevertheless, straight knives do still do a good job and if you are used to a straight knife and happy with your results you might as well stick with this option.
#4 Knuckle Room
This factor will be largely decided by the shape of knife you choose. If you do opt for a straight knife it really is best used just for bread and large fruits. However, if you want to use your serrated knife on a range of fruits and soft vegetables, then you may wish to pick a shape which provides more knuckle room. Indeed, the curved blade or offset blade (that extends up to 2 inches below the handle) ensures you have plenty of room. Unfortunately, offset knives are often shorter so may not be suitable for larger loaves.
#5 Electric Vs Manual
For some people using an electric knife is a gimmick best left in the 80s but for others, it is the only way to go. Depending on which you camp you fall in, this is clearly an important decision to make as electric knives can be pretty versatile for slicing bread, filleting fish, and even carving the Thanksgiving turkey!
So once you have considered all of these possibilities you are good to go!
What is healthier tortilla or bread?
If all these different considerations about bread knives are making you reach for an alternative carbohydrate, then your mind might have wondered to the humble tortilla. However, although many people might automatically assume that a tortilla is healthier than bread, there is actually very little between them when it comes to nutrition, calories, and fat content and bread actually outperforms the tortilla on certain metrics.
Obviously, specific brands will vary, but typically 2-slices of wholemeal bread will only contain around 4-grams of fat compared to a whole-wheat wrap. The bread will also likely contain around half as much salt, twice as much protein, and a little bit more fiber. So bread has a lot going for it when it comes to health benefits and nutrition when compared to the tortilla. However, if you are wondering what has more calories between tortilla or bread, then it is, in fact, the bread, which may make those on a diet want to reach for the tortillas.
Other things you should watch out for with tortillas, that will soon have you back on the bread, is that they are often made with hydrogenated fats and other trans-fats that the body will not thank you for. If you are worried about the healthiness of bread, you can also opt for wholemeal, sourdough, and even low gluten options like spelt breads. Spelt bread is a great option for people who are gluten intolerant.
How to bake your own healthy loaf of bread at home
If you fancy baking bread from scratch so you can be sure it is the healthiest bread to eat, then you should check out this recipe that is tried and triple tested. To make the healthiest bread you should get a nice bag of whole grain flour as this is less processed and has far fewer additives than plain flour and white flours more generally.  Whole grains are also packed full of healthy oils, bran, vitamins, minerals, and enzymes that will make you feel far better than store bought bread will.
#1 Ingredients:
This will make a loaf with 10-12 slices (depending on how thick you like it), is suitable for vegans, and will take up to 7 hours to complete.
1 packet of fast acting yeast (10g)
28ml of maple syrup/honey
5g salt
14g Flaxseed meal
2 cups whole-wheat flour
1 ¾ cups of all-purpose flour (make sure it is unbleached)
1.5 cups of warm (but not boiling) water
40g sunflower seeds mixed with toasted oats
#2 Method:
Mix the yeast, maple syrup/honey, salt, flaxseed meal, and both the whole-wheat and all-purpose flour together in a bowl.
Add the warm water to the dry mix. If you have a thermometer, bring the water up to 110 degrees Fahrenheit. Stir this together with a wooden spoon to form a rough and sticky dough after about 3 minutes of stirring.
Now it is time to knead your dough! Do this in the bowl and add extra flour if the dough is sticking to the side of the bowl. Keep adding flour and kneading until it no longer sticks to the sides.
Take the dough out the bowl and rub olive oil around the bowl before placing the dough back in it.
Cover the dough with a damp kitchen cloth and leave to rise in a warmish and dark space for at least 2 hours. Then move it to the fridge for a further two hours to slow the rise.
Remove the dough from the fridge and make a well in the middle pouring in your toasted mix of sunflower seeds and oats.
Knead the dough until the seeds and oats are well mixed and the dough feels nice and elastic. This will be at least 20 rounds.
Add the dough to an olive oil greased bread tin and sprinkle some flour over the top and cover with cling film for a further 60 minutes.
In the meantime heat your oven to 420 degrees Fahrenheit (around 10 minutes before the dough is ready).
Make cuts around ½ an inch deep across the top of your loaf and place it on the middle rack of the oven. On the bottom rack place a baking tray with around 1.5 cups of boiling water to help add moisture to the baking process.
The loaf is ready once it has turned a deep and golden brown color which should take between 25-35 minutes. It should also have risen noticeably.
Once it is removed from the oven leave it in the tin for at least 5 minutes before carefully removing it and leaving it on a slotted rack to cool.
Serve with a nice pot of soup or with avocado on toast!
Best Bread knife reviews 2022
#1 Best traditional bread knife: Out of the Woods of Oregon bread and bagel slicer
This bread knife from Out of the Woods of Oregon bread knife is beautifully designed and will be an attractive addition to your kitchen repertoire. The design means that it can slice all sorts of bread products – the stainless steel blade is modeled on the same blade that is used in industrial bread slicing machines so you can be sure you will get a smooth and easy cut. Sharp, serrated and ultra-thin this bread knife will make cutting up fresh loaves, bagels and crusty sourdoughs super easy.
What's great about this product is that you can select either a right or left-handed version depending on what you use. It is also made from a sustainable wood source – Oregon Red Alder. A great tool to have in your kitchen and an effective means of ensuring you get the correct thickness of bread you require every time.
#Bread_knife #Out_of_the_woods #Bagels #Slice #Easy #Serrated #Attractive
#2 Best value bread knife: Moone serrated bread knife 8 inches
If you want to add a bread knife to your kitchen cabinet but your budget is at the lower end then check out this bread knife from Moone. Coming in at under $20 this bread knife won't break the bank and is also an excellent quality product. Made out of high carbon stainless steel with a sleek wooden handle this serrated knife will glide through a thick loaf with no effort at all.
Whether you like to eat bagels, sourdough, crumpets, or homemade bread for your breakfast with this bread knife slicing through it has never been easier. The wooden handle has a non-slip grip making this a safe and sturdy tool to use. You can also use this kitchen knife to cut through fruit, vegetables, cheese, and cakes so is a super versatile product.
#Kitchen_knife #Bread_knife #Sourdough #Slice #Serrated #Wooden #Quality
#3 Best high-end bread knife: Dalstrong  Aus-10V-10.25" (260mm)
For those of you who want to add a state-of-the-art bread knife to your daily routine then check out this superb bread knife from Dalstrong. You can be sure of the quality of this knife when you hear it is crafted to perfection over 60 days of manufacturing. Made of the finest Japanese super steel and with an extra-long blade length, this bread knife will glide through your loaves like nothing you've seen before!
The handle is ergonomically designed to give you full control over the bread knife and to make sure that your hand is comfortable. It is made out of non-slip grip to make slicing your bread safe. This beautiful knife is inspired by Japanese sword making methods and will be a true asset to your kitchen.
#Dalstrong #Japanese #Safe #Bread_knife #Sharp #Kitchen
#4 Best stainless steel bread knife: J.A. Henckels International 16906-201 8 inch
This bread knife is made out of the highest quality German stainless steel and is certainly built to last. A highly durable bread knife to add to your collection of kitchen equipment this knife will smoothly glide through your bread of choice whether it be sourdough, bagel, or a homemade seeded loaf. The appearance of this knife is also extremely stylish – with a satin-finished blade and superior handle it really ticks all the boxes.
You will be pleased to hear that this bread knife is dishwasher safe so is easy to clean and maintain. The handle is also designed specifically with your comfort in mind and your safety. Upgrade your bread knife with this superior model and make those uneven bread slices a thing of the past.
#Bread #Knife #Stainless_steel #Bagel #Crusty_load #Effortless #Kitchen
#5 Best wavy edged bread knife: Victorinox Cutlery 9 inch
Here is a super durable and affordable bread knife that will withstand years of use in a busy kitchen. Victorinox have designed a bread knife that not only looks great but slices great too. Made out of high carbon stainless steel the blade is easy to re-sharpen and will withstand you re-sharpening again and again.
The black polypropylene handle is designed to be slip resistant to ensure that your hands are kept as safe as possible as you slice through your favorite loaf, there is also a finger guard for added safety. The knife is also dishwasher safe. Slice through sourdoughs, bagels and freshly cooked loaves with ease and make bread cutting frustrations a thing of the past.
#Bread_knife #Victorinox #Cutlery #Slice #Quality #Sourdough
#6 Best ergonomic bread knife: Sky Light bread knife 8 inch
Crafted out of German high carbon stainless steel this bread knife from Sky Light is designed to be both effective and durable. Tired of the bread snagging and crumbling when you try to slice through it with your old bread knife? This will be a thing of the past with this super sharp serrated bread knife. Feel it glide through your bread of choice, delicious cakes, and even fruits and vegetables.
Due to the sharp serrated edges that are built to retain their sharpness, there is no need to sharpen this bread knife – saving you time but being no less effective. The ergonomic non-slip handle means that you can be in full control of the bread knife making your cutting experience safe and comfortable. Plus, you will get a lifetime warranty and they offer a 100% satisfaction money back guarantee so you've got nothing to lose.
#Sky_light #Knives #Kitchen #Bread #Ergonomic #Multipurpose #Durable
#7 Best bargain bread knife: Mercer Culinary M23210 Millenia 10 inch
This superb bread knife from Mercer Culinary is an affordable option if you are looking for a quality bread knife at a low price. It has been awarded the Best Serrated Knife award by Cook's Illustrated so you can be sure that you are getting an effective and quality product. Made out of high-carbon, stain-free Japanese steel it is extremely sharp and also easy to sharpen.
The handle comes with a protective finger guard and is ergonomic for your comfort and safety. With slip-resistant material, you can glide through the toughest of breads with ease and be sure that you are in full control. A firm favorite amongst professional chefs the Mercer Culinary brand is certainly a brand that you can put your trust in.
#Mercer_Culinary #Bread_knife #Award_winning #Easy #Sharpen #Japanese #Steel
#8 Best super sharp bread knife: Imarku 10 inch
Made out of German steel this bread knife is a great tool for all of your bread related needs. Be it bagels, French baguettes. Sourdough loaves, cakes or any other bread that tickles your fancy – this knife will glide through with ease and ensure a clean slice every time. The serrated edge grips your bread and means that you can cleanly slice without snagging or tearing the bread.
The ergonomic handle is made out of pakkawood and ensures that you can grip it safely and securely. You can also use this knife for other food such as fruits and vegetables – a multipurpose knife that will be an asset to your kitchen. Making sandwiches has never been easier with this clean slicer and you can speed up that morning routine thanks to this excellent bread knife. This knife also comes in an attractive box!
#Sandwich #Imarku #Serrated #Steel #German #Bread_knife #Effective
#9 Best bread knife gift: Saken bread knife 10 inch
This bread knife from Saken is a great choice if you are looking to give a bread knife to a friend or family member as it comes in a luxury gift box. A great choice for a wedding gift or for someone you know who is a budding chef. Inside the gift box is a quality knife made from premium German steel that is sure to be an incredibly useful gift.
When you see that this knife is strong, beautiful, sharp and ergonomically designed to ensure that you become a master bread slicer you're sure to want to treat yourself to this knife also! Designed to be wear-resistant and resistant to rusting you will be using this knife for years to come. A worthy investment for yourself or a loved one you're sure to not regret this purchase.
#Saken #Quality #Crafted #Gift #Effective #Bread_knife #Best
#10 Best wooden handled bread knife: Chicago Cutlery 10 inch
This beautiful bread knife from Chicago Cutlery comes with a beautifully crafted walnut handle with brass rivets – this not only adds a bit of traditional style to your kitchen it also is an incredibly comfortable knife to hold. The shaft of the knife is made out of high-carbon stainless steel and is serrated to ensure that you enjoy a smooth and easy cut through bagels, farmhouse loaves, scones, cakes and more.
The 25 degree taper grind edge gives this knife an excellent sharpness to take away any struggle you have faced slicing bread in the past. This bread knife is highly durable and Chicago Cutlery are so confident in their product that they offer a lifetime warranty. You can be sure you are making a good investment with this bread knife and that it will become a staple of your kitchen.
#Chicago_Cutlery #Bread_knife #Serrated #Sharp #Quality #Safe
#11 Best bread knife for sourdough: Paudin 8 inch bread knife serrated knife
If you're a fan of sourdough you will no doubt have struggled to slice this touch but tasty loaf. So many times attempts to cut with a blunt bread knife can lead to either slices that are slim and crumble away or are too thick to fit in the toaster. Eliminate these troubles by investing in this top quality bread knife from Paudin. With the extremely sharp serrated edge made out of German stainless steel, you will slice through your sourdough loaf with ease. You can also use it for all other types of breads as well as fruit and vegetables.
The beautiful handle of this bread knife is made of pakkawood and is designed with your comfort and safety in mind. Designed to perfectly balance in your hand you can be sure that your slicing will hit perfection. Paudin knives are used by professionals so you can be sure that you are investing in a brand you can trust. With a lifetime guarantee and a return policy, you can be confident in your purchase.
#Paudin #Bread_knife #Pakkawood #Stainless_steel #Quality #Professional
#12 Best electric bread knife: Cuisinart CEK 30 electric knife, black
To really take the strain out of cutting bread why not invest in an electric knife. This knife from Cuisinart is multipurpose and will slice through meat and vegetables as well as bread items. The blade is made out of stainless steel and is super sharp. This, along with the presence of a powerful motor, you can be sure of precision and successful slicing every time.
The functionality of this knife is also stress-free – with a simple on and off button and an ergonomic handle you can be confident in using this electric bread knife. It can be used whether you are right or left-handed and is also incredibly easy to clean – all you need to do is remove the blade and stick it in the dishwasher. This is a great addition to any kitchen and you will find you are using it at every meal time.
#Electric #Kitchen_knife #Multipurpose #Cuisinart #Electric_knife #Useful
#13 Best Electric Bread Knife for Versatility NutriChef's Portable Electric Cutter Knife Set
If you fancy the lazy route but still want a good quality knife that makes slicing bread, meat and much more easy, then you should check out this electric cutting set. With a choice of two blades made from high-grade stainless steel this electric cutter is perfect for all your cutting needs and can evenly slice the loaf from the recipe above in a matter of minutes with barely a crumb scattered. If you struggle with consistent slicing with manual knives this could be your savior!
Other good things about this electric knife are that: it is suitable for use on meats and vegetables as well as bread; it has a sleek ergonomic design that makes it easy to handle; it comes with a handy wooden stand that fits neatly on your work surface, and; it has a super safe lock to prevent unwanted hands using it. The downside of this knife is that, for us, electric knives take quite a bit of the fun, heart, and soul out of carving meat or slicing bread.
#Electric_Knives #Electric_Bread_Knife #Meat_Carving_Knife #Safety_Knives #Bread
Conclusion
So there you have it, there is far more to a bread knife than first meets the eye and lots to consider before you buy one. It is important to consider the length (9-10 inches is best), the serration depth (fewer larger ones are what you're after here), the shape of the knife (are you left or right handed? Curved is better for multiple functionality), that there is plenty of knuckle room (offset and curved shapes are better here), and electric or manual (we prefer manual).
Although it can be tempting to be persuaded by the idea to buy a cheap bread knife that you can throw away once it gets blunt there is actually no need to do this as a good bread knife can last you a decade easily with very little need for sharpening. So check out our list for top knives and get baking, you'll be a pro-bread maker in no time!