How to keep tortillas fresh
Tortillas are a store cupboard staple for many of us as they are a quick and easy dish to rustle up after a hard day's work with very few ingredients. However, it can be easy to buy a pack of tortillas and keep it in your store cupboard for weeks, or open a packet and then forget about them. If this sounds familiar we're here to help you identify whether or not your tortillas are fresh by giving you some top tips on identifying how to tell when tortillas have gone bad. We will also look at how you should store your tortillas to keep them fresh for longer as well as reviewing some top products for tortilla preservation.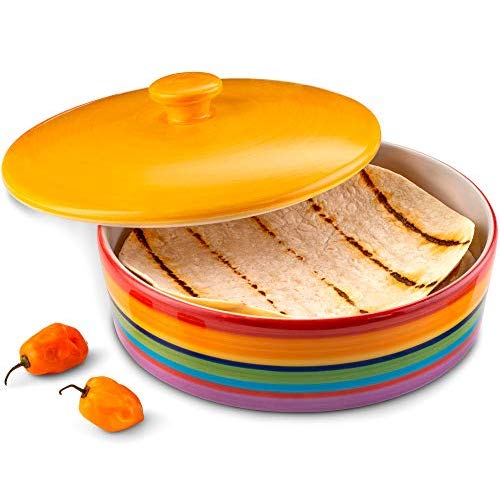 How long do tortillas last?
Assessing tortilla shelf life is no easy feat when you have a packet that very unhelpfully has no expiration date on it, and we're sure you want to avoid eating bad tortillas. So, how long are tortillas good for? And how long do tortillas keep in the fridge? Don't worry, we're here to answer all of your tortilla related questions. Let's take a look at how long tortillas last depending on what they're made up, as tortillas shelf life depends on what type of tortillas you like to eat:
You may want to see: Best Tortilla Press – The Complete List 10 types of Tortilla Press
#1 Corn
If you opt for the healthy option of corn tortillas then you can look forward to some long lasting tortillas. These delicious wholegrain tortillas that are full of vitamins and minerals will last for 7-10 days in your store cupboard unopened for 7-10 days, in the fridge for 6-8 weeks and in the freezer for as long as 6-8 months! Once opened keeping the freshness of these tortillas depends on how you store them – we will explore this in more detail before.
#2 Flour
Flour tortillas are the slightly less healthy counterpart to the corn tortilla. Equally delicious but slightly higher in fat and protein. Flour tortillas last for slightly less time than corn tortillas – if left unopened you can keep them in the store cupboard for up to a week, 3-4 weeks in the fridge and 6-8 months in the freezer.
#3 Whole Wheat
Another healthy option when it comes to tortillas are whole wheat tortillas. These delicious tortillas are rich in nutrients and fiber and help to promote healthy digestion. Whole wheat tortillas will last in the store cupboard for just a week unopened, but if you put them in the fridge you can extend their shelf life for 2-3 weeks. Stick them in the freezer and you can keep them for 6-8 months.
#4 Homemade
If you're on a low carb diet or you purely enjoy making your own then you might like to know how long homemade tortillas last before going bad. As homemade tortillas don't contain any preservatives to stop them from going off they will only last for 2-3 days in your store cupboard. If you put them in the fridge then they will keep a little longer – around 5-7 days. You can keep them in the freezer for as long as store-bought tortillas – 6-8 months.
Best Tortillas Fresh on Amazon
How to store tortillas to keep them fresher for longer
There are steps you can take to preserve your tortillas for longer and ensure that they don't go bad sooner than they need to. One of the main enemies of the tortilla is moisture – they need to be kept in a cool and dry environment separated from any exposure to water or condensation. Tortillas don't like temperature changes so make sure that you don't store your tortillas in the fridge and then move them to the cupboard – this will cause a build-up of condensation and lead to mold growing on the tortillas making them inedible. To avoid moldy tortillas or limp, stale and dry tortillas read on to find out how to keep your tortillas fresher for longer.
#1 Store-bought tortillas
If you're partial to a pre-packed tortilla then these are easier to store than a homemade tortilla as they come in a sealed packet when you buy them. If left unopened your tortillas will be happy in their airtight packet until you open them (as long as they haven't passed their sell by date!) and release them to the environmental factors that make them go moldy. Once opened, the key thing you need to ensure is that your tortillas are kept airtight. You can do this using either:
– Plastic storage bags
– Parchment paper or waxed paper
– Freezer bags
– Airtight container
With store-bought tortillas, it is best to keep them in the fridge to keep them fresher for longer. Get your tortillas in your chosen airtight tool and pop them on the shelf of your refrigerator (rather than the door which is more susceptible to fluctuating temperatures).
#2 Homemade tortillas
With homemade tortillas, you need to be quicker off the mark when it comes to storage. When you have your batch of freshly made tortillas it can be tempting to pile them on top of each other – but be warned, they can easily get stuck together and you can end up with a huge congealed tortilla that refuses to part with its neighbors.
A good trick is to lay a sheet of parchment paper between each tortilla so that they don't get stuck together. Then, when they are cooled, transfer your freshly made tortillas to a sealed container or a freezer bag and put them in the fridge. Keeping them in the fridge helps them to keep fresher for longer – they should keep for around a week in the fridge whereas in your pantry they would perish within a few days.
#3 Freezing tortillas
Freezing tortillas is a great idea if you are a fan of a bulk buy or you want to make a big batch of homemade tortillas at one time. You can simply place your tortillas in a freezer bag and pop them in the freezer, however, they can lose their shape in this way and be partial to getting stuck together and are hard to separate once frozen. To avoid this, try and get your hands on some cardboard and cut two pieces into the shape of a tortilla, then separate each tortilla with a piece of parchment or waxed paper and seal each end of the tortilla stack with the two pieces of tortilla shaped cardboard. This is a simple and effective way of ensuring your tortillas are kept in tip-top condition in the freezer.
How to tell if tortillas are bad
It can happen to any of us – we open a pack of tortillas and then totally forget about them and find them a few days or weeks later at the back of our fridge or bread bin. If this sounds like you it can be handy to know what the tell-tale signs are of how to spot when a tortilla has gone bad and will not be tasty or safe to eat.
As with all food, it is important to use your senses to detect if the tortillas have gone bad. You can often tell by sight if your tortillas are past their best – have they dried out and gone crispy? These will certainly not be a tasty accompaniment to any meal and will be best off in the bin. Also, look out for mold on tortillas – black spots on tortillas are a definite indication that you should not eat them and that they should be discarded immediately (unless you want to give yourself food poisoning).
The smell test is also a good way of testing out the freshness of your tortillas – give them a sniff and if they don't smell fresh you're better off going for a different option for dinner.
Can you eat expired corn tortillas?
Expiry dates on tortilla packets can be misleading and often tortillas can be eaten after their expiry date if you practice this with caution. Usually, you can eat unopened tortillas a week after their expiry date as long as they are still in their airtight sealed package. This can be extended to up to a month if you keep them in the fridge as long as they are unopened. Make sure to practice caution, however, always ensure that you have a thorough look and smell at your tortillas before eating them.
Do tortillas go bad in the fridge?
Contrary to the popular myth tortillas actually keep longer in the fridge than they do in the pantry. Once you've opened your tortillas make sure that you pack them in an airtight container and put them safely in your refrigerator. If you have made your own tortillas it is a good idea to store them in the fridge as soon as they have cooled as they are absent of any preservatives, they are likely to go bad a lot quicker if you put them in your pantry.
Tools to keep your tortillas fresh
We've reviewed the best ways to ensure you keep your tortillas fresh and make sure that they don't go bad sooner than they need to. Now it's time to look at the tools you need for tortilla preservation. Investing in some equipment to maintain your tortillas once opened, or made, will be an economic choice in the long run as you will avoid having to buy new tortillas when you really don't need to.
Best Keep Tortillas Fresh 2022
#1 Best easy open freezer bags for tortillas: Ziploc freezer bags, gallon, 120 count
Another great brand for freezer bags is Ziploc. These bags are perfectly suited to storing uneaten tortillas whether they are bought from the store or homemade. They are designed specifically to lock out freezer burn and to ensure that your food stays full of flavor – great if you are planning on batch cooking some tortillas and then putting them in the freezer for another time.
The smart zip design of the bags means that you can feel, hear and see that the bag is completely sealed to secure the freshness inside. This double mega pack of freezer bags is great value and you're sure to find a multitude of uses for these highly adaptable storage bags. Whether it be from meal portioning, to fruit storage these are great bags to have in your kitchen cupboard.
#2 Best value plastic-freezer bags for tortillas: Glad food storage and freezer 2 in 1 zipper bags 46 count – 3 pack
With 138 freezer bags for just over $10 this pack of food storage bags from Glad really are great value. No matter how often you need to store your tortillas you're sure to have a bag to hand whenever you need it. These food bags can be stored either in the fridge or freezer and ensure that your food is kept fresh.
The quart plastic bags provide an airtight seal that locks in freshness so that you can be confident that when you return to your tortillas they are just as fresh a few days later in the fridge or stay for a lot longer in the freezer. They are also highly durable and will not tear after freezing, so much so that you can reuse these again despite their being made of plastic. A real kitchen staple that will ensure that your tortillas continue to be as delicious as they should be.
#Airtight #Freezer_bag #Tortillas #Freshness #Freezer #Multipurpose
#3 Best eco tortilla freezer bags: Lodge reusable silicone food storage bags
Freezer bags are such helpful items to have in the house but it may have come to your attention that they are a classic example of a single-use plastic item. Here is a great eco-friendly alternative to disposable freezer bags from Lodge which can be used to store your tortillas either in the fridge or the freezer. Made of silicone these freezer bags are completely plastic-free.
All you need to do is pop your tortillas inside, zip it up and seal in the freshness. What's more, these silicone freezer bags are microwave safe so you can even defrost your frozen tortillas while still inside the freezer bag. This set comes with 7 storage bags, 4 medium and 3 large, so you can use the rest for all of the other food items that you want to keep fresh for another day.
#Freezer_bag #Eco-friendly #Environment #Storage #Tortilla #Fresh
#4 Best plastic-free tortilla freezer bags: YKing reusable food bag set of 7
Another great option if you are looking to reduce your use of single-use plastics and try to go plastic-free are these reusable freezer bags from YKing. Coming in attractive colors and different shapes and sizes – 3 large and 4 medium sized – these freezer bags will be a really useful addition to your kitchen. In terms of keeping your tortillas fresh, they will do just the job. Seal in the freshness with the airtight seal.
These silicone freezer bags are microwave friendly so you can easily defrost frozen tortillas if taking directly from the freezer. You will be pleased to hear that they are also dishwasher safe – all you need to do is turn them inside out and stick them in. In addition to being superb tortilla storage pouches, they will also come in handy with other food items you want to keep fresh. Investing in a set of these will go a long way in reducing your use of disposable plastic bags.
#Silicone #Storage #Freezer_bags #Tortilla #Fresh #Plastic_free #No_plastic
#5 Best plastic-free freezer bags for tortillas: Conscious Kitchenware reusable silicone food bags
These Ziploc bags from Conscious Kitchenware are a superb addition to any busy kitchen. If you are eating tortillas regularly but want to keep a pack fresh for a week or so transfer them to one of these pouches and ensure that their tasty freshness is retained. Use in the freezer or in the fridge and enjoy knowing that they are completely plastic-free and reusable – a great step in improving your green credentials.
These versatile storage bags can also be used in the microwave, steamer and even be used for sous vide cooking. In this set, you will get one large bag (which is the perfect size for your tortillas) and 3 small bags which can be used for other food items such as fruit and vegetables. Ensure that you have no more moldy tortillas by investing in some of these super useful eco-friendly food bags.
#Plastic_free #Food_bags #Reduce_waste #Tortillas #Fresh #Freezer
#6 Best plastic-freezer bags: Hefty Slider jumbo food storage bags – 2.5 gallon size, 12 count
These jumbo sized food storage bags from Hefty are a great choice if you need to grab something quick to store your leftover tortillas in to prevent them from going bad. With a super strong MaxLock seal the freshness will be locked in this food bag whether you opt to put it in the fridge to use in a few days' time or stick it in the freezer.
These great value food bags also come with large write-on labels so you can document what's in the bag and when you put it in the fridge or freezer. In addition to being a great tool for keeping tortillas fresh, you're sure to find other uses for these multi-purpose sealable bags. With a brand like Hefty, you know that you will be receiving a quality product and the price isn't bad too – with 12 bags in each box they're sure to last you a while.
#Storage #Food #Fresh #Tortillas #Freezer #Fridge
#7 Best tortilla storage box: Regent tortilla keeper microwave warmer 8 inch
This multipurpose tortilla keeper is a great bit of kit to have in your repertoire. It is a great way of keeping tortillas warm when they are fresh from the pan or oven but it is also the perfect tub to store your unused tortillas in the fridge. Although not suitable for home freezing this is the perfect size to keep your tortillas fresh in the fridge.
This box is microwave and dishwasher safe but it doesn't lock, the lid sits on top of the base. This means that it is a great device to keep your tortillas in for a couple of days in the fridge but won't work as well as an airtight freezer bag or box. If you are eating tortillas regularly we're sure you won't regret the purchase of this multipurpose tortilla keeper.
#Tortilla_keeper #Keep_warm #Keep_fresh #Multipurpose #Fridge
#8 Best tortilla keeper: KooK tortilla warmer, 8 inch
This stylish tortilla keeper from KooK comes in two fantastic colors – either lime green or a vibrant red. Having one of these on your table will really add to the occasion of your tortilla themes night. Originally designed to keep tortillas warm on the table, this is also a great device to store the tortillas you don't eat in the fridge as it's the perfect shape.
While also keeping your tortillas fresh this tortilla keeper can also be transferred straight from fridge to microwave when you are ready to reheat your tortillas. While not an airtight container this is a great tool if you are purely wanting to keep your tortillas fresh in the fridge for a couple of days, but it is not suitable for long-term freezing. You can also use this tortilla keeper for storing pita bread, naan, chappatis, pancakes and anything else of similar shape!
#Tortilla_keeper #Tortillas #Fresh #Fridge #Storage #Container
#9 Best tortilla keeper set: Doternity Tortilla Keeper – one large and one small
For all those regular tortilla eaters out there take a look at this tortilla warmer and keeper set. The perfect shape to place your freshly cooked tortillas into to keep them warm whilst you're eating, these tortilla keepers will also look fantastic on your dinner table. Choose from red, blue, yellow or green and add a touch of brightness to your weekday meal.
These excellent tortilla keepers are also a really useful way of keeping those tortillas fresh that you are unable to eat at the table. Simply keep them in the container and pop them in the fridge and they will stay fresh for a couple of days. Made from durable reinforced PE and 100% BPA free this is a great quality product to have in your kitchen.
#Tortillas #Fresh #Warmer #Fridge #Tortilla_keeper #Container
#10 Best ceramic tortilla keeper: KooK ceramic tortilla warmer
This gorgeous ceramic tortilla keeper from KooK is a true investment for your kitchen. Not only will it add color and flare to any kitchen table it also does the dual task of keeping your tortillas warm while you eat and also is a nifty container to keep your leftover tortillas in. With a beautiful hand-painted design it's likely that you will want to keep this tortilla keeper on display at all times!
Made of ceramic, this tortilla storage device is incredibly durable and will slot nicely onto your fridge shelf to ensure that you tortillas stay nice and fresh. This dish is microwave safe and can hold up to 12 tortillas at a time. This would also be a great investment if you like to make your own tortillas as it will keep the freshly made tortillas warm as you make the rest. A great purchase that you're not going to regret any time soon.
#Ceramic #Tortilla #Storage #Tortilla_keeper #Tortilla_warmer #Freshness
#11 Best airtight tortilla storage container: Cartints silicone collapsible food storage containers
With this purchase, you don't only get one food storage container but four! They come in an assortment of sizes so are a great choice for all sorts of food preservation needs. The largest container (7.1") is the perfect size for storing your leftover tortillas in. Whether you have too many left over from dinner, or have a pack that you want to freeze before the expiry date passes, these storage containers are suitable for storing tortillas in either the fridge or the freezer and have an airtight vacuum seal.
These are also a great choice if you don't have a lot of space in your kitchen as these food containers collapse to a third of their original size when you aren't using them. Great for storing in a cupboard or a drawer without taking up too much space. You can also be confident that this is a no-risk purchase as Cartints offer a 3 month money back guarantee if you're not happy with their products. Why not give these excellent tortilla storage containers a try – you've got nothing to lose!
#Airtight #Tortillas #Fresh #Food_storage #Fridge #Freezer #Containers
#12 Best food storage containers for tortillas: SEALCO food storage containers with lids
Here is another great set of stackable food storage containers from SEALCO. This four piece set comes with matching lids and the largest containers measures 8 inches in circumference so is the perfect size for storing your tortillas. Keep the freshness locked in with these FDA approved and BPA-free plastic containers.
Designed to be microwave, freezer, and dishwasher safe these tubs can deal with whatever you throw at them. In addition to keeping your tortillas fresh, they will also be useful for keeping other food items. These reusable tubs will be coming out time and time again and you will begin to wonder how you ever lived without them!
#Reusable #Plastic_containers #Tortillas #Fresh #Freezer_safe #Storage
#13 Best glass tortilla container: International Cookware Arcuisine round bakeware and storage dish – 10 inch
Glass storage containers are highly durable and also mean that you get to reduce your plastic usage. This container from International Cookware is the perfect size to store your tortillas in and can be used in the freezer, fridge, microwave and even the over. If you're looking for a storage device that can be transferred from freezer to the oven to your dinner table this is the product for you.
Made out of Borosilicate, a high-quality glass which is designed for use in the oven, this dish is built to last. It will lock in the freshness of your tortillas and slot nicely in your fridge or freezer. Coming with a 5 year manufacturer's guarantee, you can be sure of the quality of this product. We're sure once you've bought one of these you will be coming back for more!
#Glass #Container #Tortilla #Freshness #Freezer #Oven_safe #Multipurpose
#14 Best glass tortilla storage set: Pyrex simply store glass rectangular and round food container set (18 pieces)
Made in the USA this set of glass storage containers from Pyrex will cover all of your food storage needs. Coming in different shapes and sizes ranging from round to rectangular. The largest round glass storage bowl will be perfect for storing your leftover tortillas and is fridge, freezer, oven, microwave, and dishwasher safe so no need to worry what device you are using it in.
Pyrex is a well-known household name, and for good reason, their products are built to last. With these glass storage pots with sealed plastic lids you can keep your food fresh and, as they are made of glass, they won't absorb any food odors and won't stain either. A great choice for keeping your tortillas fresh and for stocking up a bank of useful storage containers to keep any leftover food fresher for longer.
#Glass #Pyrex #Tortilla #Fresh #Storage #Freezer #Delicious
Conclusion
A meal with a tortilla in it is sure to be delicious and, for many of us, tortillas are a regular household staple that we cook for at least one meal a week. However, how many times have you had to throw away leftover tortillas that have gone dry and crisp or lank and moldy? Make this occurrence a thing of the past by investing in some tools to keep your tortillas fresh.
There are lots of options you can go for when considering tortillas storage and preservation. Whether it be a disposable or reusable freezer bag, a traditional tortilla keeper or an airtight storage container make sure you arm yourself with the necessary equipment to keep your tortillas lasting for longer. Whether you like homemade or store-bought there are plenty of options out there that will help keep your tortillas fresh either in the fridge or the freezer.
See more maybe you are interested here.