Any keen cook will tell you how essential a good wok is for any kitchen. If your kitchen is without one you might be wondering where to start as there are so many different options out there. Woks come in different shapes and sizes and there is debate out there as to what material makes the best wok. In this article we take a look at why using a carbon steel wok is the best way forward and what you need to look out for in order to choose the best carbon steel wok for your kitchen.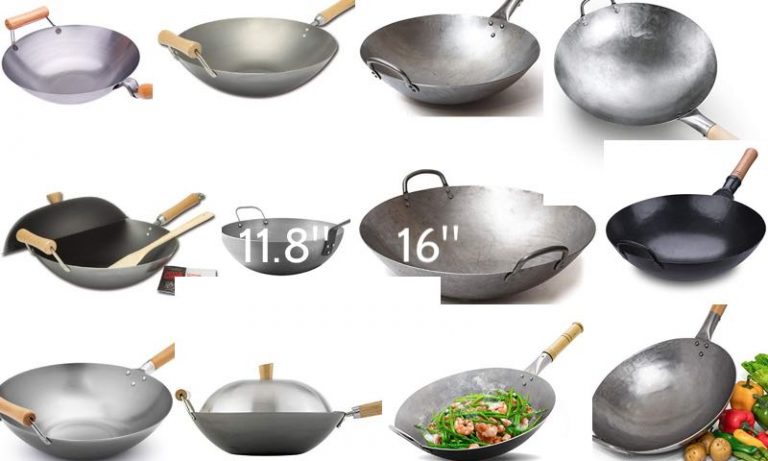 Why buy a wok?
If you're a regular frying pan user it can, at first, be hard to see why you should need a wok in your kitchen as, on first appearance, they seem to serve the same purpose. However, when you hear that a wok distributes heat more evenly than a frying pan, requires less oil when cooking and is much easier to 'toss' food around (without it ending up on the stovetop) when you're cooking dishes such as a stir fry.
While traditionally used for cooking Chinese food a wok can also be used for a variety of cuisines and is a great tool to have for a variety of cooking techniques. With a wok you can steam, pan-fry, poach, boil, braise, sear, make stews and soups and even smoke. A wok can be used for pretty much everything and once you've taken the plunge into the wok way of cooking we're sure you won't be looking back.
Why choose a carbon steel wok?
Woks are made out of many different materials including stainless steel, cast iron, aluminum, and copper. However, the traditional material that woks are made of is carbon steel. This is the most popular (and the most tried and tested) material woks are made out of and has many advantages.
Carbon steel woks are favored in Asian cuisine thanks to their ability to withstand high temperatures, deliver even conduction across the wok and are naturally non-stick by nature. Carbon steel is also a much lighter material than other wok options making it easier to handle the wok – making tossing food while cooking a much easier and successful task.
Another important consideration when selecting a wok is safety due to the fact that you will be cooking at very high temperatures. Some materials when heated to a high temperature release toxins which can be harmful to us (such as Aluminum). Thankfully, carbon steel can be heated to very high temperatures without releasing any toxins so is a safe material to use when cooking and won't cause you any harm.
Buying Guide: How to choose the best wok
Once you've decided on adding a carbon steel wok to your kitchen it now comes down to choosing the perfect product for you. There are a few things you need to consider before making a purchase so check out our buying guide below.
#1 Design
Woks come in two different designs – either flat-bottomed or round-bottomed. The design that you need is really dependent on the type of cooker you have and the design of your stovetop. If you have a gas stove then a round-bottomed wok should be used and you can even buy a wok ring to help balance the wok onto the stove better.
If you are the owner of an induction stove, electric stove or flat grill the adapted flat-bottomed wok would be more suitable as a round-bottomed wok can reflect heat back onto the element and damage it. You can also use a flat-bottomed wok on a gas stove but a traditional round-bottomed wok would work better.
So, to put it simply, if you've got a gas hob you can use either a round-bottomed or flat-bottomed wok. For everything else go for a flat-bottomed wok.
#2 Size
Now you know what design you need for your wok it's time to think about the size. When it comes to restaurants you will see woks in use that are several feet wide and while you might like the thought of yourself as the next Ken Hom but having an oversized wok in your kitchen can be more cumbersome than beneficial. On the other hand, having a wok that is too small can be frustrating when all of your delicious ingredients won't fit in it and you end up having to cook food in batches.
We recommend the ideal sized wok for use in a home kitchen is around 14 inches in diameter. This size is adaptable to cooking a meal for one or for the whole family and is a good size to be able to toss your food if you are making a stir fry.
#3 Method of construction
Next thing to think about is how the wok has been constructed as this can affect how you can cook your food. Woks can be made using either stamping, spinning or a hammering method. The stamping method produces woks that have smooth sides – these are often a little cheaper but not ideal when cooking as the smoothness causes foods to slip and you can therefore not hold it on the side.
Alternatively, woks made using the hammering or spinning method have indentations around the interior of the wok which means you can put food to the side if you don't want it cooking at that moment. These sorts of woks make cooking much easier and consistent and also helps you not to overcook your dishes.
#4 Handles
The handles of a wok are especially important due to the high temperatures with which you will be cooking at and due to the fact that wok cooking requires some tossing. Coming in different shapes and sizes and made from different materials the handles of a wok are an important decision factor when choosing the best wok for you.
For example, long handles on a wok will make it much easier to toss your food within the wok whilst cooking, whereas shorter handles can make this maneuver a little trickier. You also want to make sure that the handles are made from an effective heat resistant material so that your hands are protected. Often handles are made out of wood or another insulate material – make sure you check out the credentials of the handles before making a purchase.
#5 Thickness and Weight
Another important consideration when purchasing a wok is how thick and how heavy it is. A good quality wok should be between 1.5mm and 2mm thick – this thickness ensures that heat can be distributed evenly whilst also ensuring that the wok durable.
In terms of weight, you need to think about your own capacity and method of cooking. If you are going to be cooking dishes in your wok that require a lot of tossing and taking on and off the stove make sure that you choose a wok that isn't too heavy. You will also be grateful for this choice when it comes to moving your wok from place to place as it won't be so cumbersome to carry.
Why do you need to season a wok?
Investing in a carbon steel wok is a purchase that can last a lifetime if you treat it properly. A carbon steel wok requires seasoning so that it can create a natural non-stick cooking surface. By seasoning your carbon steel wok you create a protective coating inside the pan, then each time you cook the layer becomes thicker and heavier creating a natural and non-stick cooking platform.
How to season a carbon steel wok
Seasoning a carbon steel wok is pretty easy if you follow these simple steps:
Clean your wok in warm water with liquid detergent and a scrubbing pad.
Give your wok a good rinse and then dry it thoroughly.
Place the wok on your stove and turn the heat up high.
Turn and tilt the wok over the heat until you see the metal change to a blue/yellowy color
Take the wok off the heat for a second and turn your stove down to a medium-low heat.
While the wok is off the heat use a basting brush or a paper towel (with tongs to protect your hands) to add a thin film of oil across the interior surface of the wok (you should use around 1-2 teaspoons).
Put the wok back on the stove and heat it on the medium-low heat for around 10 minutes.
Using a paper towel now wipe off the oil from the inside of the pan – you will notice a black residue comes off on the paper towel.
Repeat steps 6-8 again until there is no longer any black residue when you wipe (step 8) – it should take around 3 rounds before this occurs.
That's it – you have now seasoned your carbon steel wok!
Best carbon steel woks 2022– carbon steel wok reviews
Now you know what to look out for when purchasing a carbon steel wok let's take a look at some of the best carbon steel woks you can buy to suit all budgets.
#1 Best classic carbon steel wok: Mauviel wok review 11.8 inch
Mauviel is a family name in France and are known for their well renowned and quality cookware so you know that with this purchase you are getting a top-notch product. Designed to work on all stovetops this is a perfect wok for any kitchen.  It is made of extra thick carbon steel (measuring 1.2mm) this wok is durable and is also a great heat conductor.
This wok comes pre-seasoned with beeswax to help prevent rusting and to assist with seasoning – make sure that before you use your wok that you give it a good rinse with hot water to remove the wax and follow the seasoning instructions included with the wok. Heat this wok up to high temperatures and enjoy deliciously cooked food for your dinner.
#Carbon_steel #Wok #French #Mauviel #Classic #Cooking
#2 Best flat bottom carbon steel wok: M.V. Trading 14 inch
Crafted out of the finest quality carbon steel this wok from M.V. Trading is a fine piece of equipment to have in your kitchen. Measuring 14 inches in diameter it is the perfect size for cooking family meals or even a solo dine in for one. It is a flat-bottomed wok so is suitable for those of you that have either electric, induction or flat grill stoves.
If you're looking for a wok that gives you full control and security whilst your cooking then this is the one for you. With a wooden handle and side spool handle, you will have full command of the wok when cooking a stir-fry or other dish that requires a bit of tossing around. Thanks to the carbon steel material food will heat up quickly and be cooked evenly for a delicious dish. This wok does not come pre-seasoned so make sure you go through the seasoning tips above before you start cooking!
#Searing #Carbon_steel #Helper_handle #Wok #Kitchen #Safe
#3 Best value carbon steel wok: Joyce Chen 21-9978 14 inch
This carbon steel wok from Joyce Chen will certainly not disappoint and for the price, you will really grab yourself a bargain. This flat-bottomed wok is suitable to use on any stove, be it gas, electric or induction and is a great choice if you love to cook stir-fries or want to experiment with other Chinese influenced recipes. Make cooking a lot more exciting with this wok in your repertoire.
Measuring 14 inches in diameter this is a great size for your stovetop and it also comes fitted with Birchwood handles that will stay cool while cooking even at high temperatures. The 'helper-handle' is an addition to the normal handle which makes tossing those stir-fries incredibly easy. Throw in your favorite ingredients and produce a dish that dreams are made of. Make sure that you only ever hand-wash and dry this wok to keep it in tip-top condition.
#Wok #Wooden_handles #Quality #Flat_bottomed #Stir-fry #Kitchen #Equipment
#4 Best traditional carbon steel wok: Craft Wok traditional 14 Inch
If you're cooking on gas then check out this round-bottomed stove from Craft Work. This traditional wok is hand-hammered by Chinese professionals in Guangzhou and is crafted to ensure that your food cooks to perfection. Chuck in a bunch of your favorite vegetables or meat and let the wok work its magic – your food will be cooked evenly at a high temperature thanks to the carbon steel material. The benefits of hand hammering also mean that your food won't slip around when you don't want it to.
The handle of this wok has been designed with ease-of-use in mind. It is made out of wood with a special hygroscopic surface to make it non-slip – giving you full control when it's time to toss your food. For a 100% traditional carbon steel wok that is favored by professional Chinese chefs check out this offering from Craft Wok.
#Craft_wok #Traditional #Hammered #Wok #Round_bottomed #Gas
#5 Best hand-hammered carbon steel wok: Mammafong authentic 14 inch
For a truly authentic wok cooking experience take a look at this hand-hammered wok from Mammafong. This handcrafted wok is as sturdy as you like thanks to its being made by specialist craftspeople who know how to get the most out of carbon steel. This pan comes with the option of a wok lid that fits snuggly into the pan if you want to retain a wetter sauce in your stir fry. So if you love handcrafted metalwork and want a wok built to last, this will be right up your street.
Other great things about this wok are that: it is built to a professional standard and is suitable even for commercial use; it is super non-stick so you can really whack up the temperature without the risk of burning things to the bottom of your pan; it distributes heat evenly and fast across the whole wok, and; it has a wooden handle making it easier to lift when hot. The downside of this pan is that you will need to properly season it yourself once it arrives (see the instructions above).
#Carbon_Steel #Carbon_Wok #Wok #Hand_Made_Wok #Handmade
#6 Best Round Bottom Carbon Steel Wok: Chef's Medal's Traditional 14 Inch
If you are a bit of a purist when it comes to woks and want your wok to be representative of how they have been made throughout most of history, then you will know a round bottom wok is the only way to go! Flat bottom woks make it that bit harder to evenly distribute the heat when cooking on gas too so if you are cooking on gas (as the saying goes), then you should be looking only at woks with a round bottom and this one, in particular, should catch your eye.
Other pros about this wok are that: it is super lightweight but retains strength and durability that is suitable   for use in home and professional kitchens; it has a heat-proof handle made out of bamboo which seems delightfully authentic; you can use it for stir-fries, stews, and tasty fish dishes; it looks great, and; it comes with great instructions that make seasoning it easy as pie. The downside of this wok is that it is not so great on a flat top glass stove.
#Woks #Wok #Gas_Wok #Round_Bottom_Wok #Traditional_Wok
#7 Best Large Carbon Steel Wok: Craft Wok's Canton Style 16 Inch
If you plan on cooking up some massive stir-fries to provide a feast for all your family and friends, then you'll love just how huge this wok is. This handmade carbon steel wok is also made in the traditional style with a round bottom and two small handles making it a good fit for people who use a gas top stove although you will have to be careful not to burn your fingers when lifting. For those that love a truly authentic finish to their kitchenware, this will be a must in the kitchen.
Other good things about this wok are that: it is easy to season using the instructions above; it makes it easy to cook for large parties quickly; it distributes the heat both evenly and fast so get that oil bubbling and you'll be looking like a pro Asian chef in no time, and; it is completely hand made. The downsides of this wok are that you need to use oven gloves to pick it up when it's hot and it is very heavy so you will need some strength to lift it when it is full of food.
#Carbon_Steel_Wok #Large_Wok #Big_Wok #Taditional_Woks #Heavy_Wok
#8 Best Carbon Steel Wok Kitchen Set: Joyce Chen's Wok Set 4 Piece 14-Inch
If you're after a wok that comes with all the trimmings, so to speak, then you should check out this four-piece wok kitchen set from Joyce Chen. With a beautifully handcrafted carbon steel wok, a domed lid that keeps in heat and nutrients, a bamboo spatula, and an excellent recipe book bursting with the perfect culinary ideas to bring a smile to your table, this is a set that really sets the taste buds on fire. At 14-inches it is also a decent size making it a good choice for bigger households.
Other things to like about this wok are that: it has a bamboo handle on either side which makes it easy to manoeuvre even when hot; it is great value; it has an excellent non-stick surface allowing you to take it to super high temperatures and still cook the perfect meal, and; it is suitable for use on both gas and flat top stoves. The downside of this wok set is that with the lid on and full of food this is quite hefty and you'll need to be strong to lift it.
#Wok_Set #Kitchenware #Wok_&_Lid #Heat_Proof_Wok #Wok_Recipes
#9 Best pre-seasoned carbon steel wok: Timoneylove pre-seasoned 14 Inch
This top-quality wok from Timoneylove comes pre-seasoned so that you can start to cook as soon as you get your wok through the kitchen door. As well as being super convenient this wok is also made out of super-strong carbon steel which will ensure that the wok heats up fast and distributes the heat evenly across the food.
This is a round-bottomed wok so is suitable for those of you with gas stovetops. It has also been constructed using the traditional hammering method to make for the perfect cooking surface for your food. The handle of the wok is made out of red elm which is comfortable to hold and will also stay cool whilst you are cooking in order to protect your hand. Make sure you dry the wok completely after cleaning to improve its longevity.
#Pre_seasoned #Carbon_steel #Wok #Round_bottomed #Kitchen #Cooking
#10 Best lightweight carbon steel wok: Sur La Table professional 14 Inch
You might be looking for a super light carbon steel wok that makes stir-frying a breeze – if this sounds like you then check out this super stylish wok from Sur La Table. With this wok in your kitchen you can make weekday cooking super simple – throw in your favorite veggies or even try your hand at deep-fried tempura and you will soon be impressing family and friends.
This wok measures 14 inches in diameter and is fitted with a sturdy handle made of maple which won't get hot even when the temperature in the wok is getting high. There is also an additional helper handle on the other side of the wok which means you can give your food a good shake around in a safe and controlled way. Thanks to the carbon steel material your dishes will heat up quickly and will be cooked evenly. A great purchase for any keen chef.
#Lightweight #Carbon_steel #Wok #Easy_cooking #Experiment #Kitchen
#11 Best carbon steel wok with lid: Helen Chen's wok set 4 Piece 14-inch
Cooking Asian food can be so much simpler with this carbon steel wok from Helen Chen's Asian Kitchen in your life. You can use this for your favorite stir-fry or branch out and experiment with other Asian recipes. This multi-purpose wok can be used for sautéing, steaming, frying, tempuring, stewing and much more.
With some great features including a heat-resistant bamboo handle, an extra helper-handle to ensure you have full control of the pan, and a sturdy riveted design this wok will be a pleasure to use. It also comes with a high-domed lid included which is a handy assistant for keeping food warm or speeding up the cooking process. Plus, you will also get a recipe book and 13-inch bamboo spatula thrown in with this purchase so it is great value for money.
#Bamboo #Wok #Carbon_steel #Lid #Cooking #Asian_food #Experimenting
#12 Best Chinese carbon steel wok: IEOKE Chinese traditional 14.4 inch
A firm favorite amongst professional chefs is this traditional Chinese carbon steel wok by IEOKE. Made out of the finest carbon steel and crafted to be firm and uniform in density here you have the perfect platform for cooking your favorite Asian cuisine. There are no nasty chemicals coating the surface of this wok either as the material produces a natural non-stick surface (once seasoned), ensuring that healthy meals stay healthy.
This is a round-bottomed wok so is suitable if you have a gas stovetop. In addition to cooking stir-fries, you can also deep fry in this wok to create delicious tempura, or even use it as a steamer or soup maker. This wok is also fitted with a wooden handle to protect your hand from the high temperatures that you will be cooking at. It measures 14.4 inch in diameter so will be an adequate vessel for cooking for all of the family.
#Traditional #Chinese #Wok #Carbon_steel #Non_stick #Healthy #Cooking
#13 Best professional carbon steel wok: Ken Hom 12.25 inch
Ken Hom is the king of Asian cooking so what better product to go for then a wok designed by the man himself. This carbon steel wok is flat-bottomed so suitable for electric and induction hobs and is designed to resist heat expansion – this wok will sit firmly in place. The heavy 1.8mm carbon steel ensures this is a quality wok which is superb at transferring heat across the entirety of the wok to ensure even cooking.
This wok is fitted with riveted beech wood handles that resist the heat from the wok and keep your hands safe. The additional helper handle is there to ensure that you have full control of the hot wok when you are required to shake the contents inside. Ken Hom offers a 10-year guarantee with this wok so you can rest assured that you are investing in a durable and long-lasting piece of kitchen equipment. Make sure that you season this wok before using and only ever hand wash it (no dishwashers!).
#Ken_Hom #Asian_cooking #Wok #Carbon_steel #Quality #Kitchen #Durable
Conclusion
A carbon steel wok is at the heart of Asian cooking and so if this is the food you love then investing in a good quality carbon steel wok is an important move for any budding chef. Carbon steel is a great material for a wok as it heats the food up quickly and evenly, as well as being durable and naturally non-stick.
When purchasing a wok make sure you think about what size wok you are after, as well as the weight and the thickness that you desire. The handles of the wok are also an important consideration as you need these to be made of a material that does not conduct heat in order to keep your hands safe. Look out for the additional 'helper-handle' on a wok also as these make for easier tossing when it comes to making your favorite stir-fries. Happy cooking!
See more maybe you are interested here.