Toast remains to be one of the most popular breakfast items for many of us, it's quick and easy to make a tastes delicious whether it be with lashings of butter,bacon or your favorite jam. If you're in the market for a new toaster it may come as a surprise that choosing one isn't as easy as you think – there are a fair few factors you need to think about to ensure that you achieve the perfect round of toast in the morning.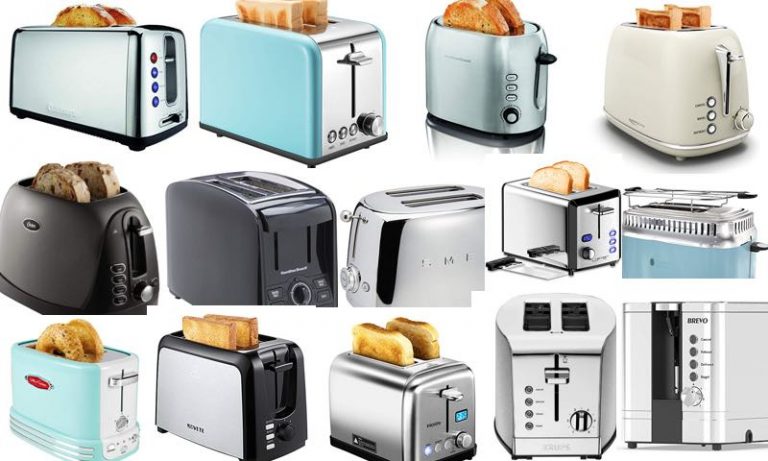 Fear not, we've got it all covered. In this article, we will review everything you need to think about before choosing your toaster – as well as highlighting some cool features that modern toasters can come with. We also review our favorite toasters that will cover all requirements and budgets. Happy toasting!
You may want to see: Best 4 Slice Toaster – What is good for your healthy sandwiches?
Two Slice Toaster – Buying Guide
It may seem that toasters are required to complete a pretty simple task, however, if you take the time to think about what your requirements are you can be sure you are picking the right product for the job.
#1 Easy to use
If you're not a morning person it is highly likely that you're going to want a toaster that is easy to use and requires very little effort to produce your breakfast. If this sounds like you why not opt for the classic pop-up toaster which requires very little thought to get that perfect slice of toast. The good news is that these toasters are often pretty cheap so they won't break the bank either.
#2 Features
You may be wanting a toaster with a few more exciting features than the classic pop up variety. Nowadays there are toasters that, as well as the additional temperature setting to adjust the toast to your liking, they also come with a bagel option which very cleverly only toasts one side of the bagel. Some toasters also come with a defrost option, so if you tend to keep your bread in the freezer this will be a useful and time-saving feature to have.
Make sure you also look out for toasters that have a self-adjusting guide fitted so that your toast is evenly toasted. The all-important cancel button is also an essential feature of any toaster! Other things to look out for are a 'high lift' setting which helps you to retrieve smaller items from the toaster if they get a little stuck. Some toasters also have a 'pause' button so you can check how your toast is doing without disrupting the timer if it needs a little longer.
Some of the real state of the art toasters have a host of other impressive features that you may have not realized you needed! If you're often in a rush in the morning look out for a toaster with a rapid toasting function to make sure you don't go to work hungry. A countdown feature display is also a feature of more modern toasters – great for the impatient amongst us. You may also appreciate the 'bit more' button which gives your toast a 30 second extra toast in case it isn't quite done enough, but doesn't need to go in again for the full cycle. Another great feature of a toaster is the ability to reheat if you don't get to your toast in time – no more cold toast.
#3 Size
If you're reading this article you are clearly in the market for a two slice toaster so at least that decision is already made. But have you thought about how big you want the slots to be in your toaster? If you're partial to a crusty loaf, bagel or English muffin it is important that you choose a toaster that has big enough slots to accommodate these.
You also need to consider the size of your work surface in your kitchen. Even two slice toasters can come in bulky sizes if they come with all of the bells and whistles. Measure up your space and think about what the optimum size toaster would be that won't take up too much room if counter space is of the element.
#4 Cleaning
Toasters are well-renowned for getting clogged up which can lead to burning and horrible smells emerging every time you use them. Toasters are notoriously difficult to clean so be sure to look out for a 2 slice toaster that has a crumb tray which will make keeping the toaster clean a lot easier. Another great feature is a non-stick interior which will prevent crumb build up in the interior of your toaster.
#5 Cost
The amount of money your toaster will cost is dependent on the brand and also the features that you are after. If you want a bog standard pop-up two slice toaster you should be able to get one of these for around the $20 mark. The only downside of going for a super cheap toaster is that it is likely to be made of less quality materials and may not last as long.
On the other hand, there is no point splashing out on a toaster that has loads of features that you will never use. Make sure you check out what material your toaster is made from and opt for one that is around the middle of the range so that you can be sure it is built to last.
Also, look out for toasters that have thought about energy efficiency – there are models out there that allow you to toast just one slice at a time if you are just after one piece. A great way of not wasting energy unnecessarily.
#6 Durability
A well-made toaster should last you a while and it's not a purchase that you are going to want to make regularly. Toasters need to withstand frequent use, especially if toast is your go-to breakfast every morning and potentially even a snack throughout the day. For this reason, make sure you check out the credentials of the brand of toaster you are selecting and see what the reviews say about how long the product has lasted for previous purchasers.
#7 Style
There are some pretty stylish toasters out there that have been designed to brighten up your kitchen. Whether you want a run of the mill two slice toaster that just does its job, or you would rather have a toaster with a beautiful design that fits in with your well-thought-out kitchen there are options for everyone. If you are wanting a toaster with a more stylish finish you should, of course, expect to pay a little more but it is likely to be a worthwhile investment given the joy it will bring to your day to day life!
#8 Safety
Safety features have also advanced in the toasting world. Look out for toasters with no-slip feet which keeps them firmly grounded on your work surface. You can also get toasters that have cool walls so are safe to touch on the outside even when your bread is toasting – keeping your hands safe.
Toasters emit a lot of heat and use a lot of electricity so it is important to ensure that the electrical cord for the toaster is reinforced and heavy duty. Make sure that the length of the cord is also long enough to enable the toaster to be plugged in at its designated spot in the kitchen.
If you're worried about little fingers trying to touch the toaster you can even purchase models now that have the elements inside the toaster covered – so if they are touched there won't be any nasty accidents.
Looking out for a toaster that is easy to clean is also a key safety feature as it will ensure that there isn't a build-up of crumbs in the toaster that could cause a potential hazard.
Best 2 slice toaster reviews 2022
Now you've taken a look at what to look out for when buying a toaster, it's now time to check out some of the products themselves! It can seem a little daunting when you see the number of options available so we've done the hard work for you and selected our cream of the crop. Check them out below.
#1 Editor's Choice: Cuisinart CPT-2400086279117786
Here we have a great all-rounder that will look super stylish in your kitchen whatever the décor. With a chrome exterior, the finish of this toaster is sublime, it measures 16.2 x 8.8 x 8.5 inches so should fit nicely on most kitchen surfaces. The slots of the toaster are extra wide (10 inch x 1.5 inch) so can fit crusty artisan bread and bagels, as well as your normal everyday bread.
The bread slots are self-centering to ensure that your bread is evenly toasted and not overdone on a particular side. It comes with a multitude of settings such as reheat, defrost and cancel and has a whopping 6 different shade settings to choose from – there is sure to be a setting to suit everyone in your family however they like their toast. This toaster from Cuisinart also comes with a pull-out crumb tray so it is easy to keep clean.
#Toaster #Crumb_tray #Perfect_toast #Comfort_food #Two_slice #Cuisinart
#2 Best Retro 2 Slice Toaster: KEEMO 2 slice retro
The beautiful turquoise blue color of this toaster makes it the perfect choice if you are looking for a product to jazz up your kitchen. Made out of stainless steel this two slice toaster is highly durable as well as being nicely compact so won't take up too much room in your kitchen (it measures 6.3 x 10.2 x 7 inches). Despite its small size it still has sizeable slots and can be used for toasting bagels, waffles and thick crusty loaves.
With some smart functions included this toaster is incredibly easy to use. There is an LED indicator light to let you know when the heating is in process, as well as a button to cancel. There is also a specific bagel option so that your bagel is only cooked on one side – great if you're a bagel lover. The defrost button is also a handy option if you like to keep your bread fresh in the freezer.
#Retro #Stylish #Compact #Two_slice #Toaster #Bagel #Waffle
#3 Best Small 2 Slice Toaster: Hamilton Beach 22706
If space is of the essence in your kitchen then you might be interested in this compact 2 slice toaster from Hamilton Beach. This well-known brand has been manufacturing quality toasters for years so you can be confident that this is a company you can trust. This stylish toaster also has a smudge proof brushed silver finish so you won't be constantly wiping off grubby fingerprints.
Despite its compact size, this toaster has wide slots so is suitable for crusty loaves, bagels, and English muffins or whatever bread takes your fancy. There are numerous settings that you can make use of including a bagel setting to toast the cut side only, and a defrost setting if you are toasting your bread from frozen. The automatic shut off device makes this a very safe toaster to use as it will turn itself off at the end of the cycle even if there is bread that has got jammed.
#Toaster #Hamilton_Beach #Metal #Stylish #Two_slice #English_muffins #Bagels
#4 Best Rated 2 Slice Toaster: Keenstone stainless steel
This top-rated toaster from Keenstone is fitted with 6 different toasting settings so, whatever your preference, you can cook your breakfast to perfection. The toasting slots are extra wide so if you're a bagel lover, or love an English muffin for your breakfast you can fit these delicious items into this toaster. There is a handy lift lever to make it easy to fish out your toast if you have are toasting smaller slices that are easy to get stuck.
With a crumb tray fitted it is simple to clean this 2 slice toaster – just slide it out every couple of days and keep the toaster crumb free. There is a cancel button should you need to stop toasting, as well as a bagel and defrost function. As well as being great functionally this toaster also has an attractive cream and stainless steel finish – a great asset to any kitchen.
#Keenstone #Toaster #Two_slice #Defrost #Breakfast #Kitchen #Toast #Bread
#5 Best Value 2 Slot Toaster: Oster metallic grey (TSSTTRJBG1)
If you're on a budget then this toaster from Oster is a great option. Not only is it super sleek it also has some excellent features. There are 7 different settings for determining the shade of toast that you are after so you can be sure that you will get your toast just right. In addition to this, it also has specific settings including a bagel setting, a setting for frozen bread and even a pastry setting!
The slots in the toaster are also wide enough to accommodate your bread of choice whether it be a crusty artisan loaf or a scrumptious bagel. The slots also auto-adjust to ensure that your bread is evenly toasted. Cleaning will be no problem with this toaster as there is a removable crumb tray underneath that you can simply remove and empty. A great value option that is also built to last.
#2_slot_toaster #Oster #Value #Toaster #Kitchen #Bagel #Pastry
#6 Best 2 slot toaster: Hamilton Beach Cool Touch(22121)
This toaster from Hamilton Beach is another great value option. A key feature of this toaster is the fact that it has a cool-touch exterior so even while your bread is toasting you will be able to touch the exterior of the toaster safely. The appearance of this toaster is attractive yet simple and will fit nicely into place in any kitchen measuring 9.5 x 13 x 8 inches.
The browning dial allows you to set the toaster to the perfect level for however you like your toast cooked. There is also an automatic toast boost which assists you with removing the toast when it's ready and helps to avoid it getting stuck. Whether you want to eat bagels, waffles or bread straight from the freezer there is a setting to suit your needs. Hamilton Beach have thought of everything and created a great value toaster to meet all of your toast related desires!
#Toast #Two_slice_toaster #Hamilton_Beach #Waffle #Bagel #Tasty #Breakfast
#7 Best rated 2 slot toaster: Smeg 2 slice toaster
This toaster from Smeg is a true state of the art toaster. With Smeg, a lot of the attraction comes from the design and it is easy to see why – having this toaster in your kitchen is more like a piece of art than a kitchen appliance! Coming in a variety of colors to suit all tastes and decors you're sure to find a statement toaster to bring joy to your kitchen.
As well as being beautiful this toaster is also superiorly functional. The slots in the toaster are extra wide to accommodate your bread of choice – whether it be a bagel, chunky loaf, or a waffle. The anti-slip feet mean that this toaster will sit securely on your work surface and the stainless steel crumb tray makes it super easy to keep clean. There are 6 browning levels to choose from to achieve your perfect toast as well as settings to reheat, defrost and toast the perfect bagel.
#Smeg #Designer #Toaster #2_slice #Quality #Kitchen #Appliance
#8 Best stylish 2 slice toaster: Russell Hobbs TR9150BLR
All toast lovers out there are sure to love this retro style 2 slice toaster from Russell Hobbs. Its super stylish design will brighten up any kitchen and it comes in red, blue, cream, black and white so there is an option for all tastes. The design of this toaster mixes cool retro design with some excellent modern features. With this toaster, you can lift and look to check the progress of your toast without disrupting the timer – the key to achieving the perfect slice of toast.
With the handy removable warming rack, you can also heat other favorite bread items such as pastries and rolls with this multi-functional toaster. There is also a countdown timer that lets you know how long it will take to toast at your specified level and lets you monitor how long is left. The extra-wide slots and removable crumb tray also add to this toasters perfection. This toaster is a great investment for any toast lover.
#Toast #Pastries #Bread #Rolls #Russell_Hobbs #Love_toast #Breakfast #Perfect
#9 Best stainless steel 2 slice toaster: LOFTER toaster
This 2 slice toaster from LOFTER has got everything covered. If you want to toast your bread straight from the freezer it has a defrost setting, if you have left your toast in the toaster for too long it has a reheat setting, and you can also cancel the toasting at any time with the handy cancel button. There is also a dial which allows you to toast your bread at 6 different settings to ensure you get the perfect golden brown toast you are after.
The 2 slots are extra wide so you can toast waffles, bagels, and bread that might be a bit thicker than normal (such as artisan bread and sourdoughs). There is also a removable crumb tray fitted in the toaster to make it easy to clean and avoid crumb build up. This toaster also has some great safety features including anti-overheat protection and instant pop up when the toast is ready. Plus, LOFTER offers a 30 day money back guarantee and a 12 month warranty.
#LOFTER #Toaster #Toast #Breakfast #Stainless_steel #Quality #Essentials
#10 Best 2 Slot Toaster for Functionality: KRUPS' Stainless Steel
If you are looking for a two slice toaster that is stylish and comes replete with special functions, then this toaster will be just what you're after! The jazzy blue LED indicators make it easy to use in whatever you mode you plan to use it, be that toasting, defrosting, reheating, canceling, or using the supreme bagel setting that ensures your Bagel gets evenly toasted rather than coming out both underdone and burnt!
Other great things about this toaster are that you can adjust the browning level so that your toast is just as you like it; it has a special lever that makes it easy to get out smaller items, such as hot cross buns, without having to reach in the toaster and burn your fingers, and; it has an easy to remove crumb tray making it easy to clean. The downside of this toaster is that some of the settings are a little bit inconsistent if your bread is a strange shape.
#Toast #Toasters #Stainless_Steel #Bagel_Toaster #Crumb_Tray
#11 Best 2-Slot Toaster with Wide Slots: Holife's Bagel LCD Display
If you have been struggling to find a toaster with wide enough slots for your thick cut needs, then this toaster will be the toaster that makes your dreams come true. Made from stainless steel, this toaster is nice and sturdy and will survive on your counter for years. The nifty LCD timer display is also a great feature that counts down exactly how long you have to wait before your toast goes POP! It might seem like a gimmick but once you've had this functionality you won't want to give it up.
Other pros about this toaster that make it stand out from the crowd are that: it is cheaper than most but without losing quality or functions; it has six settings to ensure you get your toast toasted just right; it has a removable crumb tray; it works great with thick cut artisanal bread, and; it comes with an impressive 18-month replacement warranty. The downside of this toaster is that the sides get very hot when it is in use so don't go touching it!
#LCD_Tmer #Timed_Toaster #Toaster #Value #Wide_Slot_Toaster
#12 Best 2-Slot Toaster on a Budget: NOVETE's 7 Setting
If you're not the sort of person that wants to pay an arm and a leg for a toaster but still want decent functions, then this toaster is worth a look. With defrost, reheat, and cancel functions as well as muffin, bagel, waffle, and bread settings, you won't be disappointed by the flexibility of this toaster. So whether you're a bagel biter, a toast taster, or a muffin muncher you'll love what this nifty bit of kit offers for the price.
Other reasons this toaster deserves your attention are that: it is FDA approved so you know it is safe to use; it has a crumb removal tray; it toasts nice and evenly; it works well whether you are using frozen or fresh items suitable for toasting, and; it comes with an 18-month warranty and super-responsive customer service. The downside of this toaster is that it doesn't look that attractive and in terms of design, it does look a bit budget.
#Budget_Toaster #Toasters #Cheap_Toaster #FDA_Approved #Crumb_Tray
#13 Best Traditional 2-Slot Toaster: Nostalgia's Aqua
If you're someone who loves the 60s and everything that looks a little bit retro, then don't scroll any further, this is the toaster for you!. With two slots that have been specially designed to provide an ideal toasting t both bread and bagels, this toaster is not one that is easy to overlook thanks to its style, quality, and value. The sleek design also makes this toaster the perfect choice for those with limited surface space.
You'll also like this toaster because: it has multiple browning levels so you can get bagels, toast, and muffins to just the place you want them to be; it is also suitable for muffins; it has a handy defrost setting as well as a cancel button, and; for those that love everything chrome, this toaster ticks all of the right boxes. The downside of this toaster is that the baby blue is not to everyone's taste and if you aren't it to retro goods, this isn't for you.
#Retro #Retro_Toaster #Toaster #Blue_Toaster #Chrome_Toaster
#14 Best 2-Slot Bagel Toaster: BREVO's  extra wide bagel
Toast isn't for everybody, but you'd be hard pressed to find somebody who doesn't like a bagel that has been treated right by a friendly toaster. This exceptional device is certainly a bagels best friend so if you're not too bothered about toast and don't fancy a half done/half burnt bagel you get out of a bog standard toaster, then you will be impressed by this bit of kit. So pull out the cream cheese, drape out the smoked salmon, and let's have a party!
Other things that make this bagel toaster great are that: it has a defrost, cancel, and 7 different browning control settings; it has a sleek design suitable for most kitchens; it is nice and small so is suitable for kitchens with small surface areas, and; it comes with an impressive 1-year warranty making it a pretty much risk free investment. The downside of this toaster is that it is not so good for those that like their bread thinly sliced.
#Thick_Toast #Bagels #Bagel_Toaster #Sleek_Toaster #Small_Toaster
Conclusion
A toaster is an essential household item, but selecting the right one for you and your family isn't as simple as you might think. There are many things to consider when choosing a new toaster such as the size, its ability to toast your favorite bread items to perfection, its durability, cost, and design.
It can be tempting to go for the first bargain price toaster that you find but remember you get what you pay for and taking the time to consider purchasing a quality toaster can mean that you get a product that lasts you a significant amount of time. Make sure you check out our buying guide and decide what features you need a toaster to have before taking the plunge. We're sure you will find your perfect toaster amongst the products we have reviewed.
See more maybe you are interested click here.