If a Bloody Mary is your go-to hangover cure then a pre-made mix is just the ticket for when making your own is impossible. These delicious cocktails contain much more than just tomato juice and are a little complicated to make. Thankfully, with the best pre-made Bloody Mary mix you can pour a cocktail straight from the bottle – all you need to add is your vodka of choice. In this post, we delve deeper into the history of this well-loved cocktail, check out some innovative variations on the original and review some of the best premixed Bloody Mary mixers currently on the market.
Our Top Picks for Best Bloody Mary Mix 2022
#1 Best Spicy Bloody Mary Mix: Tabasco Extra Spicy Bloody Mary Mix, 32 Ounce
If you love your Bloody Marys packed full of spice then check out this Extra Spicy mix from the spice experts themselves Tabasco.
#2 Best Bloody Mary Mix 2022: Zing Zang Bloody Mary Mix 32 Ounce
Zing Zang certainly knows how to make a good Bloody Mary mix. This is a tangy mix that isn't too thick so opt for this if you want a lighter cocktail.
#3 Best Rated Bloody Mary Mix: Tabanero Bloody Mary, All Natural, Gluten Free, 32 Ounce Bottle
This gluten-free Bloody Mary mix from Tabanero is a popular choice. With a perfect balance of tomato and spice, you can't go wrong with this mix.
#4 Best Bottled Bloody Mary Mix: Mr & Mrs T Bold & Spicy Bloody Mary Mix, 1.75 Liter Bottle (Pack of 6)
Mr & Mrs T Bold & Spicy Bloody Mary mix is a great choice if you're planning a party. Packed with flavor with an economical price tag this pack of 6 is great value.
#5 Best Store Bloody Mary Mix: V8 Bloody Mary Mix, 46 Ounce Bottle
V8 knows what they're doing when it comes to tomato juice so who better than them to make a Bloody Mary mix. Simple, yet full of flavor this mix will not disappoint.
The history of the Bloody Mary
The Bloody Mary has, perhaps, one of the most interesting stories of all of the "classic" cocktails. It dates back from the 1920s and is said to have been masterminded in Harry's New York Bar which was located at 5 Rue Danou in Paris. The bar was frequently visited by emigres who had escaped the Russian Revolution and who, brought with them, vodka, a spirit which the bartender Ferdinand Petiot found unpleasant.
To counter the taste he began trying out different recipes to try and make the drink more palatable. Eventually, he mixed it with another new import from overseas – canned tomato juice from America. With a sprinkling of salt and pepper he'd done it and the new cocktail was originally called the 'Bucket of Blood'. It isn't clear exactly when the cocktail began to be known as a Bloody Mary but it is thought that the name was triggered by the bloody reign of Mary Tudor against the Protestants in England and Ireland.
What's in a Bloody Mary?
If you fancy making the best homemade Bloody Mary mix then we have a best homemade Bloody Mary mix recipe for you. A Bloody Mary consists of vodka, tomato juice, lemon juice, Worcestershire sauce, Tabasco, celery salt, black pepper, and some celery sticks to serve. Take a look at our Bloody Mary recipe below. There are plenty of variations on this ingredient list out there if you fancy a Bloody Mary with a twist.
Best spicy Bloody Mary mix recipe
This best spicy Bloody Mary mix recipe, we think, can easily fall into the category of the world's best Bloody Mary mix. But don't take our word for it, why not try it yourself.
#1 Ingredient List (makes 4)
500 ml good quality tomato juice
4 shots of good quality vodka
2 lemons (squeezed)
12 drops of Tabasco sauce
12 drops of Worcestershire sauce
½ tsp of smoked paprika
1 tsp of celery salt
½ tsp dried chili flakes
A couple of pinches of black pepper
Plenty of Ice
#2 How to make it
Grab a large jug or bowl and add the ice to it.
Pour in the quantities of vodka and tomato juice and give the mixture a good stir.
Squeeze in the juice of two lemons to give it some zing.
Now it's time to add the spices. Add the Tabasco sauce, Worcestershire sauce, chili flakes, celery salt, smoked paprika and a couple of grinds of cracked black pepper.
Stir it all up so it is thoroughly mixed.
Pour and enjoy! Add a celery stick as a garnish if this tickles your fancy.
What to add to Bloody Mary mix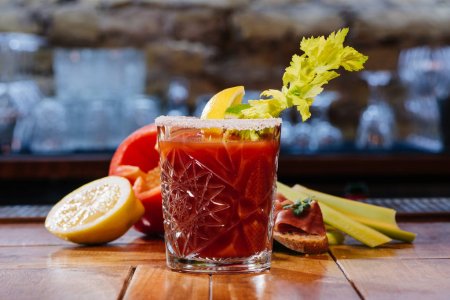 When you purchase a Bloody Mary mix the luxury is the fact that all you need to do is add vodka, or drink it on its own if you want a Bloody Mary mocktail. However, for the more adventurous amongst you, there are other ingredients you can add to a Bloody Mary to make it even more exciting. Here are some ideas.
#1 Turn up the sourness with a dash of pickle brine
The Bloody Mary has a pretty adult taste, but if you want to make it even sourer then why not add a dash of pickle brine? It might sound strange but the combination really works and will have you reaching for another glass as soon as you've gulped one down.
#2 Make it even stronger with scotch
Another interesting adaption to the original Bloody Mary mix in recent years is the addition of scotch. Not convinced? Pour yourself a glass and see for yourself.
#3 It's all about the garnishes
As a Bloody Mary is a savory cocktail this means that mixologists have free reign to go to town when it comes to the savory garnishes. Today, the celery stick seems a tame addition to this world-famous cocktail. Think spiced chorizo, olives, capers, cucumbers, chili, mozzarella, pickles, rosemary, and even prawns! Let your imagination run wild and impress your guests with a garnish to die for.
#4 Spice it up
Most Bloody Mary's have a dash of Tabasco in which gives a kick. However, if you love spicy flavors then why not add some of your favorite chili sauce? There really is no better way to kick that hangover in the butt after a wild weekend.
Best Bloody Mary Mixes
When it comes to making a Bloody Mary you want to make sure you get the best store-bought Bloody Mary mix around. Whether you're looking for something especially spicy or want to stick to the original, we've got it covered below.
#1 Best Spicy Bloody Mary Mix: Tabasco Extra Spicy 32 Ounce
Who better than Tabasco to create an extra spicy Bloody Mary mix. This 32 ounce bottle is packed full of spice thanks to a healthy helping of Tabasco pepper sauce and zesty grated horseradish. This recipe is fashioned after the original Bloody Mary mix made in Harry's New York Bar in Paris so you know you're getting a good taste. This Bloody Mary mix is thick and rich making a delicious tomato drink or mixer for the cocktail.
To make a Bloody Mary using this mix, add one part vodka to 3 parts Bloody Mary and then make sure you pour over a chilled glass filled with ice. With a bottle of this in your store cupboard and a good quality vodka chilling in your freezer, you can be sure to have a delicious drink ready to offer your guests whenever they come knocking at your door. Enjoy this as a spicy hangover cure, aperitif or refreshing mocktail and we're confident it will become a household staple before long.
#Tabasco #Extra_spicy #Horseradish #Bloody_Mary_Mix #Kick #Hangover_cure
#2 Best Bloody Mary Mix 2022: Zing Zang Bloody Mary Mix 32 Ounce
Zing Zang are one of the best rated producers when it comes to making the perfect Bloody Mary mix. This delicious award-winning mix is one of the cheaper products on the market. However, what it lacks in price it certainly doesn't lack in flavor. It is packed full of impressive ingredients to really put the 'zing' in your Bloody Mary. Be sure to check the ingredients list, however, if you follow a vegetarian or vegan diet as this mix has anchovies in it to give it a real salty kick.
Lovers of this Bloody Mary mix rate it highly thanks to it being a light consistency and not tomato-heavy. They love its tang and find it a great drink on its own as well as being the perfect mix for the well-loved cocktail. This makes the perfect accompaniment to a Sunday brunch with friends or simply as a treat to have at home when you fancy this flavorsome cocktail.
#Brunch #Breakfast #Bloody_Mary_Recipe #Zing_Zang #Cocktail #Party
#3 Best-Rated Bloody Mary Mix: Tabanero Bloody Mar 32 Ounce Bottle
If you're a fan of the Barsmith Bloody Mary Mix but can't get your hands on this elusive product then check out this similar item from Tabanero. This is an all-natural mix that is made in the USA so you can be assured that it is crafted out of quality ingredients. All you need to do is add your vodka of choice and, voila! You have the perfect Bloody Mary made within seconds.
With the perfect balance of zesty tomato and a kick of spice, this is a Bloody Mary mix that can be enjoyed during a variety of occasions. It is also gluten-free which adds to its credentials. Some reviewers have added Tequila to this Bloody Mary mix instead of Vodka to create a Bloody Maria so give this a go if you fancy something a little different! This best rated Bloody Mary mix will certainly not disappoint if this is your favorite cocktail of choice.
#Tabanero #Gluten_free #Natural #Bloody_Mary #Best_Cocktail #Tangy #Delicious
#4 Best Bottled Bloody Mary Mix: Mr & Mrs T Bold 1.75 Liter Bottle
This Bloody Mary mix from Mr & Mrs T is not only tangtastic and delicious it is also great value. This 6 pack of 1.75 liter bottles comes in under $25 so is a great choice if you're planning a party with Bloody Mary being the signature cocktail. The taste of this Bloody Mary mix is really like making your own fresh mix at home so you can be sure to impress your guests whilst saving bags of time.
Made with 95% juice this Bloody Mary mix has a bold tomato flavor and is mixed with an array of peppers including jalapeno, chipotle and red cayenne peppers. If you like your Bloody Marys thick then this mix will certainly deliver, it is also delicious to drink simply on its own as a wholesome and refreshing breakfast drink. Grab yourself a bargain box of these and get the party started.
#Mr&MrsT #Bold #Spicy #Mix #Vodka #Thick #Bloody_Mary
#5 Best Store Bloody Mary Mix: V8 Bloody Mary Mix 46 Ounce Bottle
This best Bloody Mary mix amazon is made by the experts in tomato juice themselves V8. When it comes to tomato juice V8 certainly know what they're doing so who better than them to make a Bloody Mary mix of dreams. This mixture is made with 100% tomato juice and a hint of black pepper, garlic, and red pepper so you will need to add your own hint of spice and Worcestershire sauce. With this huge bottle, you can whip up 9 cocktails so it is perfect for a small gathering.
This would be a great choice of Bloody Mary mix if you don't like your cocktail with too much punch as you can tailor the spice to your needs, or leave it out completely if you prefer. Drink it on its own as a slightly more exciting tomato juice or get the vodka out to give it a kick. Whatever you decide, this V8 Bloody Mary mix will not disappoint.
#V8 #Tomato_juice #Natural #Cocktail #Party #Pre-made
Conclusion
It goes without saying that a Bloody Mary cocktail certainly makes an exciting drink. This versatile cocktail can be enjoyed as a treat for Sunday brunch, makes a great hangover cure or can be served as an exciting aperitif at a party. Making your own mix from scratch can put you off, so these best Bloody Mary mixers are a great item to store in your pantry ready for whenever the craving takes you. Mixers come with a variety of ingredients so make sure you select the one that suits your palate in terms of tang and spice.