Fire away: How to find the best kitchen torch
Kitchen torches have made their way out of the chef's tool kit and into the household cupboard in recent years. But why should you consider using one, how is best to use them, and how do you choose the right one without having to plow through hundreds of kitchen torch reviews?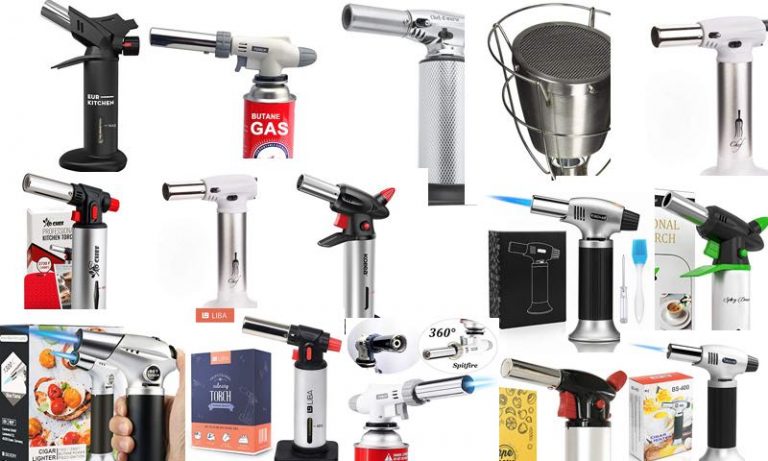 Well, in this post, we will take you through everything you need to know about the humble kitchen torch and let you know our favorites to suit all budgets and culinary needs! We'll also introduce you to a wonderful menu showcasing everything the kitchen torch can do.
Why use a kitchen torch?
If you were to ask professional chefs what their favorite kitchen implement was it might stump many, but you'd likely find many would rest on the kitchen torch. But if you think that all they are good for is caramelizing sugar on top of a crème brûlée you are mistaken, as these excellent tools can be used in a whole range of ways to give your cooking a bit of pizazz and flavor.
From caramelizing your meat without turning it dry to getting smoked hay flavors into your dishes the kitchen blow torch has so much more to offer you than simple sugar caramelization (although obviously they are great for this too).  You can also use them safe in the knowledge that they have been specifically designed for indoor use so even though you are wielding a powerful flame indoors it will be completely under your control.
Top reasons to use a kitchen torch
So what are some other good reasons to use a blow torch in your kitchen? Here are 5 reasons we think everyone needs a kitchen torch:
#1 Controlled heat application
They make it easy to apply heat to whatever it is you are cooking in a direct and visible way that is easy to control. Using a blow torch helps you learn about the effects of heat. Understanding how heat affects your food is vital to becoming a great cook but seeing this in action is often not possible as it happens slowly in a pan or in the oven.
#2 Caramelize meat without causing dryness
With a blow torch, you see heat's effects directly in response to the flame giving you a deep understanding of how to get the best flavor out of foods, especially meats which can go dry and become overcooked when we try and get them nicely caramelized on the outside. With a blow torch it's easy to get the delicious crispy exterior and a tender juicy interior.
#3 Toast everything
Toasting nuts, seeds, and even simple vegetables becomes a breeze with a blow torch and this is a flavor that is going to elevate your cooking to another level. Just as getting that charred flavor on meat transforms it from average to delectable, try doing the same to a cauliflower steak and you won't be disappointed either. You'll be blown away by the effects on a red pepper too.
#4 Great for desserts
Although we've already outlined that kitchen torches aren't just for caramelizing sugar, this doesn't mean you shouldn't use them for this. Get the perfect crisp on top of your crème brûlée, give the baked Alaska the perfect crispy coating, or turn a banana into a delicious honey flavored treat. Don't forget what a bit of flame does to a marshmallow either if you don't want to miss something delicious!
#5 Crispy & succulent fish
Just like with meat, fish is best when given a crispy coating but without cooking for so long that the inside loses its tenderness. Most fish is safe to eat raw so long as it is fresh too but giving it a crispy coating and a bit of heat brings out the flavors far more and creates the perfect texture.
To start: a recipe to blow torch mackerel
Using a kitchen torch to cook fish is nothing new and is something that chefs have done for decades. However, in recent years it has become easier to do it at home thanks to improved kitchen torch designs. One fish the blow torch is particularly kind to is mackerel thanks to its delicious oiliness and skin that tastes best when crispy. Simply a couple of minutes blow torching a fillet works great (make sure to salt the skin 20 minutes before) but if you fancy something more elaborate this recipe is stunning:
Ingredients
– 8 X mackerel fillets (including 4 for the tartare)
– 1 shallot
– A handful of dill
– 1 tablespoon lemon juice and the zest of 1 lemon
– 1 tablespoon lime juice and the zest of 1 lime
– A dollop of yogurt (Greek if possible)
– Salt & pepper to taste
For added wow factor why not add a dill emulsion:
– A large bunch or 2 of dill
– 10-15ml of olive oil
– 30ml sherry vinegar
– 1 tablespoon lemon juice
– 2 egg yolks
– Salt to taste
#1 Prepare the dill emulsion
You'll need to do this 48 hours before you plan to bring this dish to the dinner party. Whizz up the dill in a blender along with the olive oil and leave it to infuse for two days in a jar.  Pass this through muslin 3 times after the allotted time is up. Then, whisk the egg yolks and vinegar, salt, and lemon juice before gradually adding in the oil as you continue whisking until it turns thick and glossy.
#2 Prepare the mackerel tartare
Debone 4 of the mackerel fillets and remove the skin. Dice the mackerel and the shallot and mix together with salt and chopped dill. 5 minutes before you intend to serve the mackerel add the lemon and lime juice which cook the raw fish because of the juices' acidity. Finally, mix in the yogurt and you're ready to serve.
#3 Apply the kitchen torch to the mackerel
Debone the remaining 4 fillets but leave the skin on. Score the skin (this prevents the fish from shriveling when you apply the torch). Apply the blow torch for about a minute focusing mostly on the skin but brushing the front of the fillet too. Finally, you are ready to serve everything together!
For the Main: How to cook the perfect steak (with a little help from a kitchen torch)
The majority of good cuts of beef are best served rare to medium rare but also taste the best when they have a caramelized exterior and a center that is heated through but not overdone. Fortunately, the blow torch makes this task a whole lot easier. First, all you need to do is run the blow torch over the surface of your steak for a couple of minutes or so to give it a nice brown coating.
Second, you can pop your steak in the oven at a super low heat, not more than 131 Fahrenheit and don't take it out until the center reaches 130 degrees Fahrenheit. This will take a good while (we're talking hours) and you will need a thermometer but the outcome will blow you away. Even though you cook the meat for longer it will be super tender and is the best way to get the most out of an expensive steak. Serve it with mushrooms, thick cut chips, and a peppercorn sauce.
AND for the dessert: Jasmine creme brulee
Although baked Alaska would be a great alternative, blow torching a creme brulee is great fun and the perfect way to finish off this menu. Firstly, preheat the oven to 230 degrees Fahrenheit and line an oven tray that is at least as deep as the containers you plan to serve up in with parchment paper pierced with a knife. Scrape out 3 vanilla pods and place them in a pan with 450ml of milk and a teaspoon of sugar. Bring this to the boil and then simmer on a low heat for about 5 minutes.
Set this mixture aside and carefully stir together 60-grams of sugar and 7 egg yolks but without beating them to avoid adding too much air into the mix. Once the milk has had time to cool a little add 3tsp of Jasmine tea leaves and allow this to infuse into the mixture for 4-5 minutes. Next, strain this mixture over the eggs and sugar whilst stirring gently.
Now, pour enough hot (but not boiling) water into the baking tray to cover 2/3rds of the serving cups. Pour the brûlée mix into the serving cups and add them to the baking tray careful not to splash the water into the cups. And cook in the preheated oven for 40 minutes to an hour when they should wobble gently. These are best served after a night spent in the fridge. When ready to serve dust with brown sugar and apply the blow torch until caramelized.
Top 14 Best Kitchen Torch 2021
#1 Best Culinary torch for fish: EurKitchen's Butane Culinary Torch with finger guard and gas gauge
If you're after a professional quality blow torch that doesn't cost an arm and a leg but is great for searing fish and ensuring you can get that deliciously crispy skin, then this is a great option. This butane powered device is able to reach an incredible heat over 2000 degrees Fahrenheit and the adjustable gauge ensures you can have total control as you learn how to turn a good fish dish into a great one.
Other great things about this kitchen torch are that: it has a gas level display so you know when you are running low; the flame on this thing can go an impressive 6 inches; it has a decent safety guard that ensure you don't feel the burn on your own fingers; it is easy to refill, and; the adjustable gauge makes it great for use with a whole range of fish. The downside of this blowtorch is that it is not compatible with butane canisters that have a short filling tip.
#Blow_Torch #Butane_Torch #Fish_Kitchen_Torch #High_Heat #Long_Flame
#2 Best kitchen torch for lamb: FunOwlet's Butane Kitchen torch for BBQ's
When you're working with meat it's a good idea to look for a blow torch that reaches the top temperatures and this nozzle can reach a hard to believe 2500 degrees Fahrenheit! This will ensure you're able to quickly sear of any meat and is particularly good for crisping up the outside of even the fattiest lamb joint. This kitchen torch is definitely a great way to bring the flavors of the BBQ to indoor cooking and ensure you get the best out of your meat.
Other pluses about this kitchen torch are that: it is suitable for both home use and in a professional kitchen; it comes with an impressive 90 day money back guarantee meaning you can pretty much try it for free; it has an adjustable nozzle for added control, and; it is super easy to turn on and off. The downsides of this blow torch are that it doesn't display the gas level and it requires primary branded aerosol butane gas canisters only.
#Kitchen_Torch #Butane #2500 #Adjustable_Blow_Torch #Gas_Torch
#3 Best table top kitchen torch: Keen Smart's Burner for tabletop siphons
If you are looking for a high-end blow torch that is suitable to bring to the dinner table so that you can bring showmanship to the party, then this is where you need to be looking. The impressive precision flame ensures maximum control so you can wow your guests right there at the dinner table by adding the finishing flourish to a baked Alaska or a crème brulee. The consistency of this flame is particularly impressive so you don't have to worry about your guest's bushy eyebrows!
Other things that make this blow torch great are that: it is has a lifetime warranty so once you've bought one it will last you for life or be replaced; it is highly durable; it has a great grip so you can be sure you won't let it slip at the wrong moment, and; it is one of, if not the most, efficient burners on this list. The downside of this burner is that you can't tell how much gas you have used and it is pricier than most on the market.
#Gas_Kitchen_Torch #Gas_Blow_Torch #Kitchen_Equipment #Fire #Heat
#4 Best kitchen torch attachment for flavor control: Searzall's Searing & Odor Control Blow Torch Nozzle
Some people with exceptional palettes find they don't get exactly the same charred flavoring as you would on a BBQ when you use a blow torch due to the smell that comes off when using it. However, with this attachment, there is no chance of any unwanted aromas making it into the air if you do intend to use the blow torch at your dinner table to impress your guests. The nozzle ensures you keep those smells out of the air and improves the overall effect as a result.
Other things that this nozzle is useful for are that: it turns a single flame into multiple thin flames which improves consistency and distribution; it is great for searing meats if you are cooking using the sous vide method; it is easy to set off a flambé with this; it is long lasting and comes with a couple of spares. The downside of these nozzles is that they are for specific kitchen torches so you are a bit locked in with this purchase.
#Nozzle #Blow_Torch_Nozzle #Kitchen_Torch_Attachments  #Even_Heat #Sous_Vide
#5 Best professional quality kitchen torch: The Jo chef professional kitchen torch
Whether you are a chef or just want to showcase your abilities in the kitchen, this impressive device has everything you need in a kitchen torch. So if you are looking for a kitchen torch that is a great all-rounder, be that for making the most spectacular brulee, the most mouth-watering caramelized banana, the crispiest skinned fish dish or the most perfectly seared duck breast you won't be let down by this high heat blow torch for kitchens.
Other things that make this blow torch stand out from the crowd are that: it has a useful gas gauge so you can see when you are likely to run out; it has great safety features and is so easy to use that even the most clumsy can use it safely, and; it reaches dreamland in terms of temperature at an impressive 2500 degrees Fahrenheit maximum. It can even be used to help out with other projects at home outside the kitchen!
#Professional #Chef_Gear #Kitchen_Torch #Blow_Torch #Safety_Kitchen_Torch
#6 Best mini kitchen torch: JB Chef's Culinary Butane Torch
If you are a chef who works across multiple venues or a home cook that can't leave their gadgets at home on a weekend away, then this mini blow torch could be a great option for you. Weighing in at a negligible 8 ounces and barely over 5 inches tall, this nifty little number still comes with everything you could ask for when it comes to a kitchen torch whether you plan to roast marshmallows or glaze some sticky ribs.
Other things we love about this particular blow torch are that it is: suitable for use in the workshop as well as the kitchen; it is safe and fits neatly and comfortably in your hand; it comes with a lifetime guarantee, and; it is very easy to use whether turning it on or off. The downside of this blowtorch is doesn't reach as high as 2500 degrees Fahrenheit and it is a little bit fiddly to refill.
#Butane #Kitchen_Utensils #Kitchen_Torch #Blow_Torch #Mini_Blow_Torch
#7 Best Kitchen Torch for Beef: Spicy Dew Blow Torch – Professional Culinary Kitchen Torch
For the meat eaters out there who are looking for a perfectly cooked steak then why not check out this fantastic kitchen blow torch made by Spicy Dew. Cook up a storm for your friends having this blow torch in your kitchen and create food that compares to food from your favorite restaurants. Give your steaks the perfect searing with this top quality blow torch.
What's more, this blow torch will open up a world of possibilities in your kitchen in addition to a perfectly cooked steak. Whether it be roasting marshmallows or creating a crème brulee this torch will do it for you. You can even use it for lighting candles and the BBQ! It also comes with some great safety features including anti-flare technology, a hand protection guard and a child safety lock.
#Steak #Searing #Blow_torch #Marshmallows #Delicious #Kitchen #Equipment
#8 Best torch for crème brulees: Sondico's cheap and cheerful blow torch
If you are looking for a blow torch that is right at the bottom end of the spectrum when it comes to price but doesn't shirk on quality, then you should look no further than this fine bit of kit. This is one of the cheapest blow torches on the market but still comes with useful features, such as having an adjustable flame and finger guard to ensure that your fingers don't get burned when you are putting the finishing touches to a crème brulee.
Other things that make this kitchen torch a good option for those not wanting to pay over the odds are that: it has a long nozzle to reduce any chance of injury; the butane gas canisters are easy to change and don't require a specific brand; it comes with an 18 month guarantee so even though it's cheap you can be sure it will last. The downside of this blow torch is that the flame can be a bit sporadic and spurt out at times in unexpected ways.
#Cheap_Torch #Kitchen #Kitchen_Torch #Equipment #Value_Blow_Torch
#9 Best value kitchen blow torch: Authenzo kitchen butane torch lighter
At just over $10 this blow torch is a steal and is a superb choice if you are looking for a great value and effective new gadget for your kitchen. If you like to experiment in the kitchen then we're sure that you will love this addition to your repertoire which will allow you to create tasty caramel-based desserts, cook meat to perfection and even light a cigar (if that takes your fancy).
With a built in security lock you can be assured of this product's safety and also feel comfortable that no nasty accidents will occur. It is also built to last made from hardy aluminum alloy and is designed to be incredibly easy to operate (even for novices in the kitchen). You will need to purchase some butane fuel when you purchase this blow torch as it doesn't come included.
#Value #Cooking #Kitchen #Blow_torch #Cheap #Quality #Beginners
#10 Best cooking torch: Kollea's Cooking Culinary Torch Lighter
If you fancy yourself as a bit of a chef then you might want to check out this quality blow torch from Kollea. This professional grade torch is ideal for any kitchen and has the ability to adjust the flame size and is also refillable with a helpful fuel gauge so that you know how much fuel you have left. This blow torch can reach a very high temperature (2500 degrees Fahrenheit) so would be perfect for searing your crème brulee or browning a meringue.
This blow torch also comes with some great safety features including anti-flare technology so it flare unless you want it too. It is also fitted with Piezo press ignition technology which means that lighting the torch is safe and quick. Make your dinner party one to remember with this super easy to use blow torch and have your friends talking about your dishes for weeks to come.
#Blow_torch #Tasty #High_temperature #Safe #Cooking #Professional
#11 Best professional kitchen torch: Tencoz professional kitchen cooking torch
You might be a professional chef who is looking for an upgrade for your kitchen, or perhaps you are a budding amateur who wants to spice up their meals, whatever your reason this blow torch from Tencoz is a great choice. This mini blow torch can be used to sear steak, salmon and even make marshmallows deliciously toasted.
Soaring at 1300 degrees Celsius this blow torch really brings the heat. Plus, it's culinary uses are not its' only repertoire – you can even use this blow torch for a bit of DIY including any soldering needs.  The all-important safety features are also present – with a gas flow regulator safety lock, protective heat guard for your hand and an easily adjustable flame you can be confident that you can use this piece of equipment safely.
#Blow_torch #Safe #DIY #Kitchen #New_recipes #Professional #Searing
#12 Best refillable kitchen torch: Pepe Nero refillable butane kitchen torch
Here we have one of the best kitchen torches around that will help you create restaurant quality food from the comfort of your own home. With this Pepe Nero product, you don't only get a blow torch, it also comes with a whisker and egg beater set for free! A great value choice that would be a superb gift for anyone who loves a kitchen gadget and loves to experiment in the kitchen.
You can be confident that this torch has all of the necessary safety features – including a lock to make sure that there are no accidental ignitions, and a sturdy base so that it doesn't topple over when you put it on the work surface. After a few days with this blow torch, you will wonder how you ever managed without it and will be enjoying new and delicious recipes that can be created with ease.
#Gift #Kitchen_gadget #Safe #Recipes #Freebies #Quality #Cooking #Equipment
#13 Best blow torch with intense heat: LIBA culinary torch (Silver)
LIBA is a popular choice amongst professionals, not just because of the quality of their products but also because of the intense heat that their blowtorches can generate. With an incredible heat of up to 2730 degrees, you can be sure that your crème brulees will be perfectly caramelized and cooked deliciously.
It is also incredibly easy to use – all you need to do is slide off the safety lock, turn the knob until you hear the flow of gas and then press on the ignition – then you will have your flame. Built to last this blow torch is made out of heavy duty and also comes with a 90 day warranty so if you don't like it you can get your money back! Refilling this blow torch is easy and it is also fitted with a fuel gauge window so you can monitor how much fuel you have left. A great product.
#Butane #Fuel #Blow_torch #Refillable #Safe #Hot #Kitchen
#14 Best adaptable kitchen torch: Ypres SU butane cooking torch
To have complete control of your flame then this kitchen torch from Ypres SU is extremely adaptable. This blow torch can be easily adjusted in terms of the flame size and the temperature and it also has a fully automatic electronic ignition. With a comfortable ergonomic design, you can also be rest assured that it is easy to handle and will be a great addition to your culinary toolkit.
This blow torch is also extremely portable thanks to its adaptability. Why not take it with you on a camping trip to make your dinner that bit more exciting or perhaps pack it in your rucksack for a hike. It also comes with a 60 day warranty so if you're not happy with your blow torch you can get your money back so you've got nothing to lose.
#Blow_torch #Camping #Recipes #Automatic #Safe #Kitchen #Equipment
Conclusion
Kitchen torches have fast become the must-have item in the kitchen, be that for professional chefs or home cooks wanting to show off to their friends. Using them is easy and safer than ever thanks to advances in design made over the years that mean some are even suitable for use right there at the dinner table.
With so many options on the market, it can be hard to decide which one to choose. However, on this list, you'll find a blow torch to suit whatever budget or need and don;;t forget to give our menu suggestions a try out once you have brought your favorite blow torch home.
You may want to see: A complete guide on preparing and hosting a healthy dinner.